Is Cortisone Helpful for the Treatment of IgA Nephropathy
2014-11-25 16:25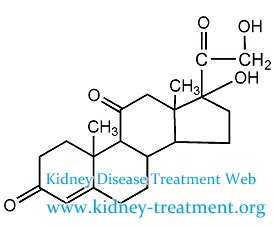 Is Cortisone helpful for the treatment of IgA Nephropathy ? Actually, the answer is yes, but it will bring some side effects at the same time. Next, let us learn more details about it.
What is Cortisone ?
Cortisone is a 21-carbon steroid hormone. It is one of the main hormones released by the adrenal glandin response to stress. In chemical structure, it is a corticosteroidclosely related to cortisol. It is used to treat a variety of ailments and can be administered intravenously, orally, intraarticularly(into a joint), or transcutaneously. Cortisone suppresses the immune system, thus reducing inflammation and attendant pain and swelling at the site of the injury.
Is Cortisone helpful for the treatment of IgA Nephropathy ?
As we mentioned above, it can suppress the immune system, so a cortisone injection can also be used to give short-term pain relief and reduce the swelling from inflammation of a joint, tendon, or bursa in. So it has good effects on treating kidney disease such as IgA nephropathy which is renal damages due to deposition of immune complexes in renal mesangial areas. Cortisone takes effects by treating inflammations in the kidneys so as to prevent further renal damages and much relieve symptoms such as swelling, proteinuria, hematuria, high blood pressure, etc.
But long-terms of use Cortisone will make further damage to our body, it may induce pain, infection, skin pigment changes, loss of fatty tissue and tendon rupture. Symptoms often reappear and patients often will develop discomforts such as headache, fatigue, abdominal pain or back pain, low fever, nausea, vomiting, loss of appetite after cortisone is stopped. It has been reported that over using of high dosage of cortisone can cause acute renal failure or worsen already existing renal problems.
From the above we know that Cortisone is helpful for the treatment of IgA Nephropathy, but long-terms use and over dosage is not good. If you want to know more information about treating IgA Nephropathy, you are welcome to contact our online doctor or leave messages to us, we will try our best to help you.
Any questions? Fill the form below. You will surely get the free medical advice from experts within 24 hours.