What will Happen If Patient Cannot Control IgA Nephropathy Well
2015-11-27 16:01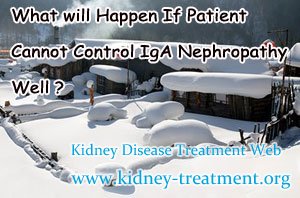 What will happen if the patient cannot control IgA Nephropathy well? IgA is a kind of primary glomerular nephritis characterized by deposition of IgA or IgA antibodies in glomerular mesangial areas. The deposit on the glomerular mesangial areas, causing inflammatory reaction, so the glomerular messangial cells got injured, blood and protein leak out into the urine.
What will happen if the patient cannot control IgA Nephropathy well ?
Gradually, the inflammatory reaction will cause renal fibrosis(creatinine level will increase and kidney function will be damaged at this stage), then leading to glomerular sclerosis(this stage is irreversible), then the whole kidneys will lost function.
Why there are so much IgA, C3 on the glomerular mesangial cells?
IgA Nephropathy is an immune disease. The patients' immune system got disordered, when patients get infection, the immune system can't work normally, excessive immune complex is produced, such as IgA, IgG, C3, these immune complex travel around the whole body along the bloodstream, when reaching to the kidneys, they deposit on the glomerular mesangial cells, causing the inflammatory reaction, just as the above introduction.
How to treat IgA Nephropathy ?
About the treatment, it involves two steps, we should prevent the disordered immune system from producing further immune complex. Meanwhile, we also should stop and clear away the deposited immune complex in the glomerular mesangia area. As long as the two steps are done, your disease will be cured.
Here, i recommend Immountherapy and Micro-Chinese Medicine Osmotherapy to you, with the help of those two treatments, IgA Nephropathy can be controlled well. If the patient is lucky enough, they may get a chance to reverse it.
If you want to know more information about those treatments for IgA Nephropathy or need any help in treating IgA Nephropathy, you can send email or leave message to us, we will try our best to help you. Our email: kidney-treatment@hotmail.com
Any questions? Fill the form below. You will surely get the free medical advice from experts within 24 hours.