Why Do You Have Insomnia with Kidney Failure
2013-10-07 13:47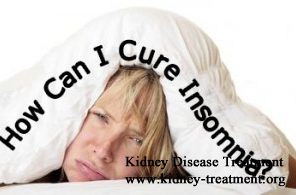 Why do you have insomnia with kidney failure? Kidney failure is a problem in kidney, but some kidney failure patients may found they have insomnia. Why is this? Is there any link between them? And how is insomnia related with kidney failure?
Is insomnia a symptom of kidney failure?
Kidney failure is a very serious kidney problem and it may involve any part of our body if not controlled well. Therefore, kidney disease patients may experience various discomforts when their illness develops to end stage, such as itchy skin, nausea, vomiting, tiredness, leg cramp, shortness of breath and swelling. Though not as common as digestive problems and skin problems, insomnia may also occur as a symptom of kidney failure.
Why kidney failure patients have insomnia?
For kidney failure patients, they may experience insomnia due to the following several factors:
1. Obstructive sleep apnea syndrome
Kidney is the organ that takes charge of discharging toxins in blood. When kidneys are failed, toxins build up in the blood, which may cause obstructive sleep apnea syndrome and thus cause insomnia.
2. Leg restless syndrome
Leg restless syndrome is another factor that affects kidney failure patients' sleep quality. With poor sleep quality at night, patients may sleep more in daytime. If they do so, they will become sleepless at night. Over time, they will develop insomnia.
3. Excessive sleep in day time
Excessive sleep in day time is the major cause of insomnia in some cases of kidney failure.
4. Some medications
For patients living with kidney failure, they need to take various medications to control their illness condition. These medications are helpful in treating kidney disease, but they always cause a series of side effects if used for a long time. In some cases of kidney failure, insomnia appears as a side effect of some medications.
Kidney failure patients may develop insomnia due to different factors, so they need to find out the root cause and then take corresponding measures. Only in this way, can sleep problem be resolved radically. Also, you can send your test report to kidney-treatment@hotmail.com. Our nephrologists will help to fight out the causes and then supply information about how to manage insomnia caused by kidney failure.
Any questions? Fill the form below. You will surely get the free medical advice from experts within 24 hours.