Why Patient with Kidney Failure Would Suffer from Hemorrhage
2016-11-28 16:44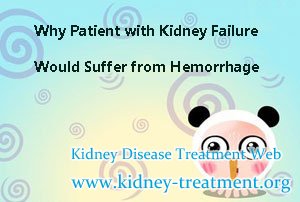 I had back pain, and then woke up with nose bleed, is it a sign of renal failure? Is there any connection between Chronic Kidney Failure and nose bleeding or any other bleeding?
To be frankly, Bleeding is frequently common in clinic for patients with Chronic Renal Failure. More often than not, nose bleeding and bleeding gums are commonly seen. In some serious cases, patients even experience gastrointestinal bleeding or intracranial hemorrhage, which may cause death.
Why patient with Kidney Failure would suffer from hemorrhage?
1. Capillary fragility increases in Kidney Failure patients
2. Disturbance of blood coagulation
Life expectancy of platelet decreases due to large amount of toxins and metabolic products accumulate inside the body
3. The application of heparin during taking dialysis
Sometimes, nose or gum bleeding is pretty easy to be solved; instead, gastrointestinal hemorrhage becomes pretty tricky and serious in Chronic Renal Failure patients. If one experiences gastrointestinal hemorrhage, haematemesis might develop as a result. Serious hemorrhage may lead to anemia; especially those patients suffer from anemia already due to Kidney Failure.
After the detailed introduction of hemorrhage and this disease, you probably know that we can't simply regard nose hemorrhage or other bleeding as one signal of Chronic Renal Failure. As a matter of fact, if you have already suffered from renal failure, there are many other signs indicating your problem long before. Of course, they will be much more serious than the hemorrhage, and much tricky to deal with.
If you want to solve those problems caused by kidney failure or want to treat kidney failure effectively, you can send email to us or leave message below, we will try our best to help you.
Our email: kidney-treatment@hotmail.com
Any questions? Fill the form below. You will surely get the free medical advice from experts within 24 hours.