Cramps in Hand and Leg with Minimal Change Disease
2013-11-16 14:54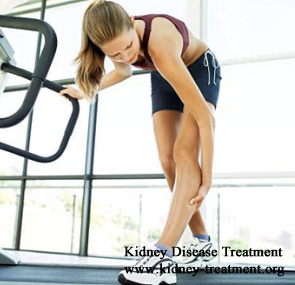 Many Nephrotic Syndrome patients find minimal change disease (MCD) in their test report, because MCD is one leading cause of Nephrotic Syndrome. With this disease, patients may have a series of symptoms, among wich, cramps in hand and leg are common.
What causes hand and leg cramps in minimal change disease?
For MCD patients, three conditions may be the underlying causes of this discomfort:
1. Low calcium level
If excessive phosphorus builds up in the body or less vitamin D forms in the body, more calcium will be taken away from the bone and patients can't take in enough calcium from foods they eat. Finally, low calcium level can cause cramps easily.
2. Side effect of some medications
To prevent further kidney damage and control patients' condition, steroids and immunosuppressants are often used for people with MCD. However, these drugs may lead to some side effects like leg and hand cramping.
3. Poor blood flow in hand and legs
Kidneys have a close link with blood circulation. Blood circulation supplements enough blood and oxygen to kidneys, while kidneys are responsible for cleansing blood. With MCD, kidneys can't do its work normally, so less blood flow to kidneys and some other organs. This is another reason for cramps.
How to manage cramps in hand and leg for these patients?
The managements should depend on the causes, so we give out some suggestions:
● Eat high-calcium foods or take calcium supplements: Many daily foods contain rich calcium such as sesame paste and milk. Besides, some calcium tablets are good sources of calcium.
● Get more sunshine: Sunshine can prompt the formation of vitamin D in the body that can help absorb calcium easier.
● Medicated bath: Put some herbs into your bath water, so the active ingredients of herbs can help regulate blood circulation through skin. Besides, it can help ease patients' fatigue.
Many other methods can help also deal with cramps in hand and leg for people with minimal change disease. To learn more, you can send email to kidney-treatment@hotmail.com.
Any questions? Fill the form below. You will surely get the free medical advice from experts within 24 hours.