A Thank You Letter for Shijiazhuang Hetaiheng Hospital
2014-11-22 18:18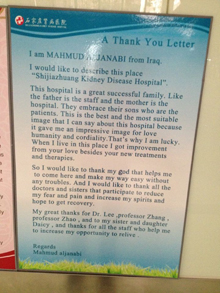 I am MAHMUD ALJANABI from Iraq.
I would like to describe this place "Shijiazhuang Hetaiheng Hospital".
This hospital is a great successful family. Like the father is the staff and the mother is the hospital. They embrace their sons who are the patients. This is the best and most suitable image that i can say about this hospital, because it face me am impressive image for love humanity and cordiality. That's why i am lucky. When i live in this place i got improvements from your live besides your treatments and therapies.
So i would like to thank you my God that helps me to come here and make my way easy without any troubles. And i would like to reduce my fear and pain and increase my spirits and hope to get recovery.
Mu great thanks for Dr. Lee, professor Zhang, professor Zhao,and to my sister and daughter Daicy, and thanks for all the staff who help me to increase my opportunity to relive.
Regards
Mahmud aljanabi
This is a Thanks letter from our kidney disease patient, we are really glad to hear those words he said. You know our mission is to help kidney disease patient to live a quality life and back to normal life. So in future, we will keeping help more people with kidney disease. If you are the person with this disease and want to live better, do not hesitant to contact our online doctor or leave messages to us, we will try our best to help you. All the information we provide is free, so do not worry about it.
Any questions? Fill the form below. You will surely get the free medical advice from experts within 24 hours.