A Letter of Thanks -- To Shijiazhuang Kidney Disease Hospital
2016-01-22 14:51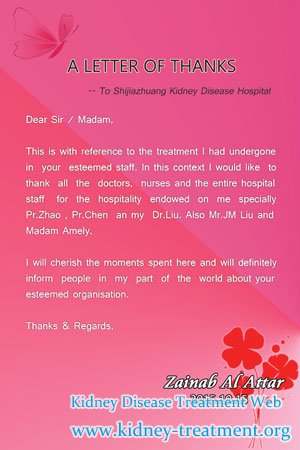 Dear Sir/Madam,
This is with reference to the treatment i had undergone in your esteemed staff. In this context i would like to thank all the doctors, nurses and the entire hospital staff for the hospitality endowed on me especially Pr,Zhao, Pr,Chen and my Dr.Liu. Also Mr.JM Liu and Madam Amely.
I will cherish the moments spend here and will definitely inform people in my part of the world about your esteemed organisation.
Thanks&Regards,
Zainab Al Attar
2015.10.15
Have a question regarding kidney disease? Get an answer from Medical Professional now!