Can Chronic Nephritis Patients eat oranges
2014-01-10 00:57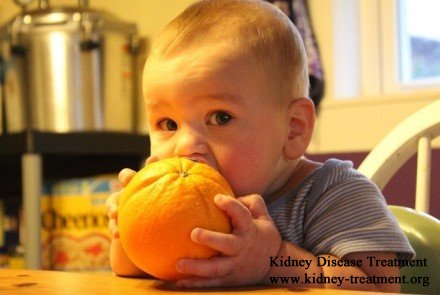 Can chronic nephritis patients oranges? This is a common question from chronic nephritis patients. As we know, for kidney disease patients, they should pay attention to their daily life, which will help reduce the kidney burden and protect the residual kidney function.
Oranges are popular and common fruits for people all over the world, and oranges contain numerous nutrition and have delicious tastes. In general, 100 g of oranges contain 88.2g water, 177 mg potassium which are good for normal people. However, for chronic nephritis, whether they can eat oranges depending on their potassium level in blood. For chronic nephritis patients, their glomeruli have been damaged, and they may suffer from some obvious symptoms such as proteinuria, high blood pressure and swelling. And with the progression of the chronic nephritis, the kidneys will fail to work and the the excess potassium cant filter out from the blood,which will cause high potassium level.
In this condition, the chronic nephritis patients should avoid to eat oranges in their daily life, as oranges contain too much water and high potassium, which will cause serious swelling and increase the high potassium level.
When people get chronic nephritis, their glomeruli will gradually decline and the kidney will fail to function well, and the excess fluid will retain in the body, which will cause swelling. So patients should limit their daily fluid intake, as the retention of fluid will also cause high blood pressure, and cause further damage to the kidneys. As oranges contain high amount of water, chronic nephritis should avoid eating too much oranges in their daily life.
Besides, chronic nephritis patients may also have high potassium level in the advanced stage, which will cause people experiencing some serious symptoms such as nausea, vomiting and loss of appetite. Besides, high potassium level will also cause serious heart problems. So chronic nephritis patients should firmly control their potassium intake. Therefore, they should avoid eating oranges, which will increase their high potassium level.
From above, we can get that chronic nephritis patients should not eat oranges in their daily life, besides, they should also keep a kidney-friendly diet, which will help them alow down the progression of the kidney disease. If you want to get a personalized kidney-friendly diet, you can ask our experts online, or send your test report to kidney-treatment@hotmail.com.
Any questions? Fill the form below. You will surely get the free medical advice from experts within 24 hours.