Acupuncture for the Treatment of Chronic Kidney Disease
2016-11-06 10:23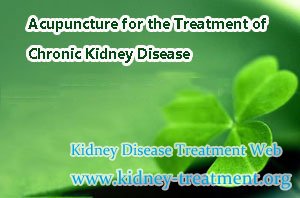 Acupuncture acts as a form of ancient Chinese medicine and is used to deal with various diseases. The current research showed, it is also helpful for treating Chronic Kidney Disease.
How does Acupuncture works?
There are several things are needed when performing this therapy, they are fine needles, acupuncture points on the body and professional acupuncturist.
TCM is a dialectical behavior therapy, meaning collecting information by four traditional methods, its sings and symptoms as well as comprehensive analysis by experienced nephrologists, the cause of CKD, its types and lesions etc. can be estimated. Four traditional methods of diagnosis are observation, listening, interrogation and pulse-taking. The needling manipulation matters during the treatment for CKD patients. Several types of needling manipulation are lifting-inserting, twirling-rotating, guiding the needle and so on. Common acupuncture points used include kidney shu points, Mingmen, ta ch'ang shu and some others.
What are the possible improvements for CKD patients?
Acupuncture works pretty well for lots of Chronic Kidney Disease patients, especially is good at relieving their clinical symptoms like frequent or urgent urination, stomachache, diarrhea, dizziness, headache, vomiting, nausea, insomnia or backache etc.
Some certain Chronic Kidney Disease patients suffer from diarrhea or other digestive tract symptoms. Acupuncture and moxibustion however could counteract side effects coming from not just oral taking TCM but symptoms of the kidney disease.
Usually, this therapy could relieve symptoms of CKD patients after 3 or 4 times of treatments. So, for CKD patient, it is an effective treatment. If you want to know more details about this treatment or want to treat kidney disease effectively, you can send email to us or leave message below, we will try our best to help you.
Our email: kidney-treatment@hotmail.com
Any questions? Fill the form below. You will surely get the free medical advice from experts within 24 hours.