How Can I Receive the Medicine from You
2017-08-03 11:55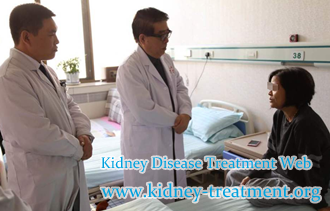 Indian Visitor 08-02 20:16:30
My blood urea is 83 & my creatinine is 3.5. My uric acid is also high. I am suffering from diabetes & high BP & thyroid disease. Kindly let me know how can I receive the medicine from you & what is the cost of medicine for saving my kidney. kidney-expert 08-02 20:16:47
You need to come to our hospital for our treatment. And the cost of medicine depends on your present and correct illness condition. I need to know more information about you. What is your age and gender? Do you have blood and protein in urine?
Indian Visitor 08-02 20:23:15
Age is 58 years. Gender is Male. Protein in urine only. No blood in urine.
kidney-expert 08-02 20:23:25
I see. For your case, there are chances for your kidney to recover. What I should tell you first is that we can only repair the diseased but not necrotic renal cells and tissues for you. We will help you dispel the symptoms, reduce the creatinine level and remove the wastes naturally. But, your renal function may not rise up to normal. We will try our best to help your improve the renal function. If you do not mind, please send your test labs to me and then I will analyze your illness condition and give you more information about diets and treatments to you.
Indian Visitor 08-02 20:24:49
OK, thank you very much.
Any questions? Fill the form below. You will surely get the free medical advice from experts within 24 hours.