Treatment Suggestion for IgA Nephropathy Patients whose Creatinine is 3.70
2018-04-15 14:29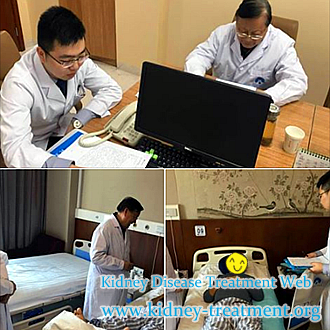 Visitor: My creatinine level was 1.5 and suddenly it was gone to 3.70.
Doctor: I see. What is the cause of your kidney disease? Do you know?
Visitor: IgA nephropathy, may be. I have controlled the creatinine level at 1.5 for years. I do not know why it went up out of the blue.
Doctor: I see. How long do you have a recheck?
Visitor: Usually half a year. But I got ill with a cold in recent days, so I take the test again. And the two months ago, my creatinine was 1.5, but now it is 3.70. I am so tensed.
Doctor: Got it. Please do not worry. For you case, it is possible to make the creatinine down. The cold is a common cause of the worsened kidney function. You need to cure it under the guidance of a doctor as soon as possible. Or else, you creatinine level will be higher and finally you have to experience dialysis. Any other symptoms now? Like foamy urine, swelling, back pain, etc?
Visitor: Itching skin, and weakness. My report shows potassium and all others are ok but urea and nitrogen are high.
Doctor: OK. These are familiar symbols of kidney disease. You know, it is a index of the attack of IgA nephropathy. Also, your kidneys will be damaged more due to the abnormal immune responses.
Visitor: Can you give me the treatment suggestions? I do not want to undergo hormones any more. And I am afraid of dialysis. I see you said in website that the patients have the similar conditions as me can get back to normal.
Doctor: We mainly use natural treatments such as Micro-Chinese Medicine Osmotherapy, Acupuncture, Foot Bath Therapy and other Chinese medicines. But due to the various illness conditions, the patients will have different treatments. Would we have a talk by other ways? What is your phone number and e-mail Id?
Visitor: Please contact me by whatsapp. I am not suitable for answering your phone call at present. Thank you in advance.
Any questions? Fill the form below. You will surely get the free medical advice from experts within 24 hours.