Diet Plan for A Diabetic Patient Having Blood Pressure and 7.8 Creatinine
2017-12-31 11:34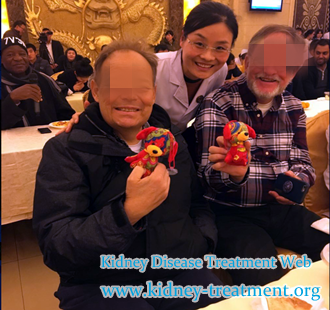 Patient 12-29 21:44:58
Sir, I want to know the diet plan for a diabetic patient having blood pressure and 7.8 creatinine level.
kidney-expert 12-29 21:45:07
OK, according to your initial description, you kidney has been damaged so badly, and thus, your blood sugar and blood pressure will have some fluctuations which in turn will damage your kidney. Please limit the carbohydrate, salt and protein intakes, but not completely quit them. You know, you must take enough nutrients to meet the basis life activities. If your blood pressure can not be controlled in the normal level, please stop eating salt. And I need to know more about the patients' illness conditions to help you. Any symptoms now? like foamy urine, swelling, fatigue, back pain, anemia, itching, etc.
Patient 12-29 21:45:49
Swelling, backing pain is there. Urine is liking normal.
kidney-expert 12-29 21:46:01
Got it. Please reduce the water intakes until the swelling is away. It is very good that the patient has a normal urine which means he / she can entirely avoid further dialysis and transplant. I recommend the patient to try a systemic treatment to not only dispel this discomforts, but also lessen the creatinine level and improve kidney function. Has the patient start dialysis?
Patient 12-29 21:46:35
No. He does not want to go for dialysis. And I just want to know whether he can avoid it with dietary control and what is the diets for him.
kidney-expert 12-29 21:46:53
All right. I'd like to send you the diet plan in details. What is your e-mail id or phone number?
Patient 12-29 21:47:10
I do not have a e-mail. My whatsapp number is. Is that OK?
kidney-expert 12-29 21:47:36
Yes. Please do not worry. Our doctor will contact you within 24h.
Any questions? Fill the form below. You will surely get the free medical advice from experts within 24 hours.