Is Carrot Good for IgA Nephropathy Patients
2013-10-15 16:00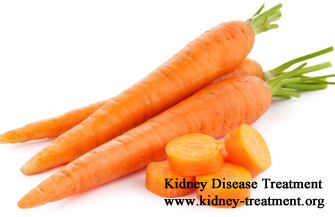 Carrot is a healthy vegetable, which contains a lot of vitamins and minerals, such as vitamin A, potassium, calcium and so on. However, is carrot good for IgA Nephropathy patients?
IgA Nephropathy is due to immune disorders and immune dysfunction. Vitamin A rich in carrots is helpful for immune system. As long as immune system improves, patient's resistance ability to diseases will be enhanced, and this can help control kidney disease.
As we all know, high blood pressure is a common symptom of IgA Nephropathy. Carrots just have this function of lowering high blood pressure, because carrots contain a lot of potassium. Every 100g carrots contain 320mg potassium. It can help discharge more sodium out of body so as to lower high blood pressure.
Carrots are also helpful for lowering blood sugar because of the materials they contain such as quercetin, kaempferol, etc. They can increase coronary blood flow so as to decrease blood lipid and promote the formation of adrenergic.
Vitamin A in carrots is also an essential element for body growth. It is beneficial for cell proliferation and growth.
Although carrot has so many advantages, not all patients with IgA Nephropathy can eat carrots, for example, patients with high serum potassium. Too much intake of carrots means taking more potassium, which is harmful for these patients, because their kidneys fail and can not remove the excess potassium.
Whether carrot is good for IgA Nephropathy patients or not, or how many carrots should you eat depends on your own illness condition. You had better consult your doctor or the online doctors. Let them give you a personalized diet plan so that you can live healthier. Or if you want to manage your IgA Nephropathy well, you can also ask our online doctors, so they can give you some suggestions about natural remedies, which can help repair damaged kidneys.
Any questions? Fill the form below. You will surely get the free medical advice from experts within 24 hours.