What is the Relationship between Diarrhea and Kidney Failure
2014-12-14 14:41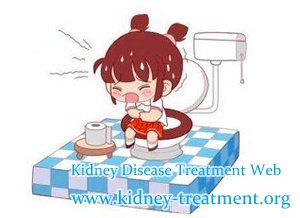 What is the relationship between diarrhea and kidney failure ? Diarrhea is one gastrointestinal tract symptom of kidney failure. Excessive accumulation of creatinine, blood urea nitrogen and other wastes in the patient's body can cause many sick feeling such as fatigue, nausea, poor appetite. If left untreated, patients can develop serious vomiting, indigestion, diarrhea, low blood volume or even rapid decline of kidney functions.
Why kidney failure patient is easy to get diarrhea ?
When kidney failure progresses, immunity will be lowered. With lower immunity, bacteria and virus are easily to attack our body thus leading diarrhea.
Can diarrhea cause kidney failure ?
According to the report, without timely treatment, Diarrhea also can induce many complications and acute kidney failure is one of them. But not all the diarrhea can cause kidney failure, here we refer to the serious ones. Once people got diarrhea, the body's effective blood volume will experience sharp decline. Blood flow to the kidneys will be reduced suddenly and cause hypoperfusion in the kidneys. Besides, diarrhea can cause dehydration, electrolyte disorders, malnutrition and disturbed internal environment. As a result, kidneys will be impaired and kidney functions will be lost and kidney failure will occur.
Although most of the acute kidney failure caused by diarrhea can be cured with timely and proper treatment, there are 10%-20% may developed into chronic kidney failure, which is hard to be cured.
How to treat chronic kidney failure ?
Micro-Chinese Medicine Osmotherapy is an innovative therapy based on TCM, and aims at repairing the impaired kidneys and recovering the renal function. It is different from traditional treatments and used externally. Through clinical applications, this therapy is proved to be safe, convenient and effective. With the help of this therapy, the progression of kidney failure can be stopped, even reversed. If you want to know more details of it, you can chat with our online doctor directly.
If you have other questions about kidney failure, you are welcome to contact us by email. Our email: kidney-treatment@hotmail.com
Any questions? Fill the form below. You will surely get the free medical advice from experts within 24 hours.