Kidney Failure with Elevated Creatinine 9 Years How to Treat It
2015-02-18 11:19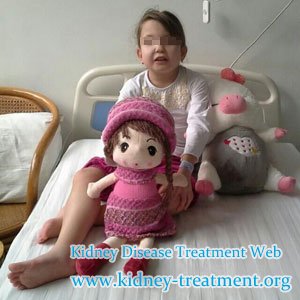 Ptient Name: DAIANA
Age: 10
Gender: female
Marital Status: unmarried
Birth Place: KZ ( Kazakhstan )
On January 16,2015 DAIANA came to Shijiazhuang Hetaiheng Hospital for further treatment. Though, she is just ten years old but she has been suffered from kidney disease for more than nine years.
Medical History:
9 years and 6 months ago the test in her local hospital shows that the protein+,serum creatinine 50umol/L. Then the doctor told her family member to keep her away from infection and ensure her got enough rest.
7 years ago, the test shows that protein++, serum creatinine 200umol/L, Uric Acid 230umol/L and got right Hydronephrosis with right ureter expansion. Based on those dates and symptoms, doctor diagnosis her disease as Chronic glomerulonephritis, Chronic renal failure, The right hydronephrosis with right ureter expansion, so she took the operation and removed her right kidney and right ureter.
One month ago, she got headache and dizzy due to cold. This time the test shows that protein2+, serum creatinine 600umol/L, Uric Acid 580umol/L, blood pressure 145/90mmHg. So the doctor recommend her to take dialysis, 2 times/week. But there is no much help and her urine output decrease to 300ml/24hours.
In order to seek further treatment, her mother with her cam to our hospital on January 16,2015.
After analyzed, our doctor make a treatment plan for her.
Treatment plan:
Diet: low-salt, low-fat, high-quality protein, low purine and low potassium
Give some medicines to relieve symptoms such as high uric acid
Give some unique Chinese Medicines to protect the kidney function and protect the remaining kidneys from further damage.Those therapies included Enema Therapy, Foot Bath Therapy, and Hot Compress Therapy.
Except that, doctors also give her Maikang Mixture to improve the circulation of blood and enhance the immunity.
After those days treatment, her disease are controlling now. What's more, her kidney function has got improved greatly. If she can insist treatment, i know she can live better without dialysis.
If you want to know more details about the treatment or need any help in treating kidney failure, you can leave message to us, we will try our best to help you.
Any questions? Fill the form below. You will surely get the free medical advice from experts within 24 hours.