Shijiazhuang Kidney Disease Hospital Celebrate Corban Festival with Foreign Patients
2017-09-02 11:36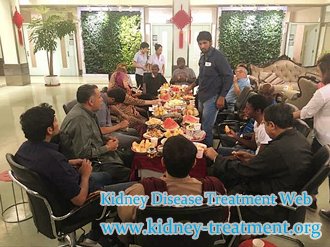 September 1st is Corban Festival, the Muslim traditional festival. In order to make nearly 30 Muslim patients from Oman, Bahrain, Saudi Arabia, Bangladesh, Pakistan and other countries spend a happy and peaceful holiday, the International Department of the Shijiazhuang kidney hospital held a part to celebrate Corban Festival.
Corban Festival is also called "Id al-Adjha", a traditional festival of Mohammedanism. In China, it is an important festival of Uygur, Kazak, Uzbek Buick, Tatar, Tajik, Kirgiz, Hui and other nationalities.
On the same days, the international department of Beijing Tongshantang Hospital of Traditional Chinese Medicine was bustling in excitement. Besides preparing the sumptuous food for the Muslim patients, the medical staffs gave the most sincere blessing to every Muslim patient in the morning routine check.
"This is the first time I celebrate Corban Festival abroad. However, this is my second time to the hospital for treatment. I thought that I would make a simple celebration in the ward with my families. But the hospital take a part to celebrate our festival. It makes me feel very warm." On the scene, Aximu from Bahrain said "sincerely invite Chinese doctors to go to Bahrain for celebrating Corban Festival next year. I will meet you very grand."
Rahman, a Oman patient, stated that his first contact with Chinese medicine was in August 17th when he consulted the traditional Chinese medicine healthy advisory group in Muscat, Oman. And then, he realized that traditional Chinese medicine has a good help for his illness. After just ten days preparation, he came to Beijing Tongshantang Hospital of Traditional Chinese Medicine. "Just arrived at the hospital, I met the annual Corban Festival. I feel very lucky. When I and my families had no way to my illness conditions, I met China doctor, and also I spent a memorable Corban Festival. I will share the holiday blessing with my families in Oman." said Rahman sincerely.
Subsequently, foreign patients from Saudi Arabia, Pakistan, Bangladesh and other countries shared their feelings about life and gossip, as family gatherings. The medical staffs and the patients all wish everyone a speedy recovery.
"In major festivals at home and abroad, the hospital and patients will spend together. So that foreign patients have a feeling of home here. This has become a habit." Liu Pan, director of the International Department of Beijing Tongshantang Hospital of Traditional Chinese Medicine, introduced that the Corban celebration activities also attracted non muslim foreign patients, "some current hospitalized patients come to our hospital for Chinese medicine after attending the consulting activities when our Chinese medicine team made overseas visits.
It is reported that as "The Belt and Road" initiates to create a favorable international environment for Chinese medicine, people in the along countries have more and more realization of Chinese medicine. Under this background, Beijing Tongshantang Hospital of Traditional Chinese Medicine actively proceeds medicine practices and spreads the culture of Chinese medicine. The hospital visit medical team had carried out nearly twenty Chinese visit activities to Nigeria, Saudi Arabia, Oman, Russia, Pakistan, Singapore, Philippines, Bangladesh, Kenya, Malaysia and other countries, which have achieved good responses.
Any questions? Fill the form below. You will surely get the free medical advice from experts within 24 hours.