Abbas Said to His Wife"I'd Like to Be Your Cowherd Forever"
2016-08-15 17:09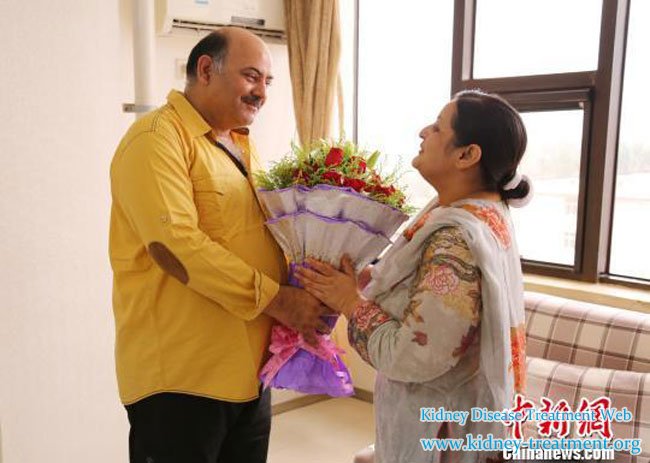 Abbas gives flowers to his wife
On 9th, August, in the international ward of Beijing Tongshantang Hospital of Traditional Chinese Medicine, to Hu Ma's surprise, her husband, mahmoud abbas sent a bunch of roses to her hands, and this is the most affectionate Chinese expression in their 21 years marriage.
Abbas, a 48 years businessman and his wife Hu Ma come from Pakistan. This time they come here for treating their youngest son's kidney disease. Abbas said, yesterday he saw one of the nurse got a bunch of flowers from her boyfriend. From the nurse, he knows that today is Chinese Valentine's Day, so he want to give his wife a big surprise.
This couple are kissing their son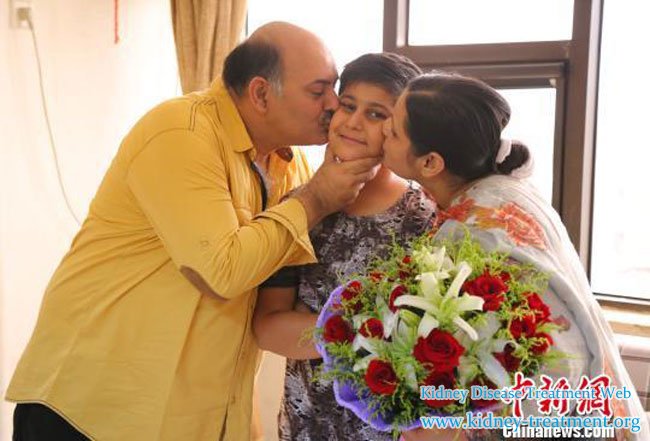 With the excitement heart, Hu Ma holding the roses asked her husband:"you are the cowherd, who am i?"then, Abbas tells his wife the story of Cowherd and Weaving Maid with the help of the nurse.
Abbas said, he and his wife Hu Ma have got married 21 years. In those years, there are two important festivals are very important for him, one is their wedding anniversary, the other is Hu Ma's birthday.
"This is our first trip in China, i am so lucky to catch up this Chinese Valentine's Day."Abbas said, he is very interested in Chinese Culture, he even knows the Spring Festival, the Mid-autumn Festival, Dragon Boat Festival and the National Day.
When it comes to the understanding of love, Abbas said, love is mutual understanding. All of us have faults, but we should tolerant each other, no matter in words or actions. No matter when and where we should care each other in the heart.
The Abbas and the medical staffs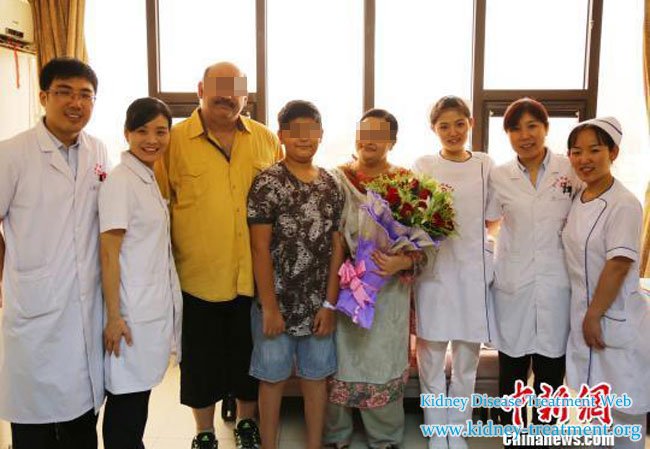 Liu Pan, the dean of Shijiazhuang kidney disease hospital tells the reporter, Mr Abbas asked the nurse help him to buy the flowers once he heard the story of "Cowherd and Weaving Maid", he wants to give his wife a surprise." Before giving Hu Ma surprise, Mr Abbas specially taken a bath and change the clean clothes, he said it is a sacred holiday, he wanted to give the best wishes to his wife and son.
During the interview, Mr Abbas told us, with his son's body restored to health, his wife's mood getting better. In a few days, it will be his wife's birthday, he will select a gift for his wife with Chinese characteristics. I'll ask the nurse to help me once again, to give my wife a surprise.
"Chinese valentine's day is the day of Cowherd and Weaving Maid meet, they can only meet once in one year, but they love each other very much, they love each other for thousands of years, every year they will meet on the magpie bridge, magpie is... "when the reporter leave the room, Abbas is still telling this love story to his wife.
Listening to this beautiful Chinese legend, Hu Ma took his son's hand said, she was very happy to get through such a meaningful holiday in China, and hope this good night can bring good luck for all people who love each other in the world.
Any questions? Fill the form below. You will surely get the free medical advice from experts within 24 hours.