Patient with Diabetes and Kidney Disease Has Get Rid of Dialysis Successfully
2015-03-02 14:33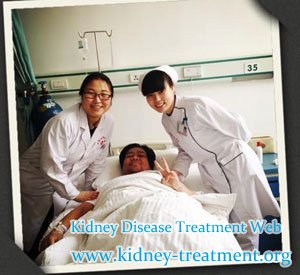 Before treatment his urine has decreased to 500ml/day, but now after treatment the urine output has increased to 1200ml/day, it is an unbelievable legend but it happened though. This is a story about a man who has suffered from Diabetes 15 years with elevated serum creatinine 1 year. The next are some details about his disease and the treatment he accepted, let us have a look together.
Patient name:JAIRAL LEMUEL
Gender: Male
Age: 52
Marital Status: Married
Country: Philippine
On February 12, 2015 he came to our hospital for the first time for further treatment. Before come here his life is filled with disappointment and pain, he even can not sleep well at every night. But now, his life is filled with hope and brave, he want to back normal life and soon he will fulfill this dream. All of these is owe to his choice-choose to take Chinese Medicine.
His kidney disease is induced by long-terms of Diabetes, so our doctor give him some herbs to control the blood sugar level, at the same time make a fit diet for him to assist the curative effect of herbs. Based on this, out doctor make a systematic treatment plan for him, with the help of those therapies, his kidney functions got improved greatly, as we mentioned above his urine output has up to 1200ml/day. You know one of the important role of kidney is to produce urine, so the increase of urine indicate that the kidney function has got improved greatly.
The treatments which are applied for his disease are Hot Compress Therapy, Foot Bath Therapy, Oral Chinese Medicine and Enema Therapy, all these four therapies cooperated together not only can protect the kidneys from further damage but also can discharge the extra toxins out of the blood and repair the damaged kidneys. In order to relieve the symptoms of kidney failure and minus the side-effect of stopping dialysis , our doctor decided to take dialysis for a while, then stop it gradually.
In such a way, his disease goes well day by day. And now he has get rid of dialysis successfully. If you want to know more details about his treatment or need any help in treating Diabetes and Kidney Disease, you can consult our online doctor directly or chat with us on whatapp, we will reply you as soon as possible. Our whatsapp: +86 18395615012
Any questions? Fill the form below. You will surely get the free medical advice from experts within 24 hours.