Chinese Medicines Help IgA Nephropathy Patient a Lot
2015-12-21 15:16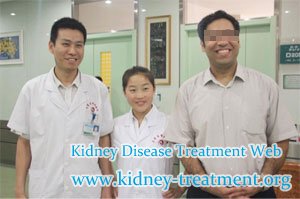 MOHAMMAD RABIEI is a 38 years old IgA Nephropathy patient from Iran, on 6th,Jun,2015 he came to our hospital for further treatment. After 45 days treatment, his overall condition goes to well. The following are some details bout him, let us have a look together.
Medical History:
2 years and 8 months ago, his blood pressure went to 150/85mmHg, the routine urine test shown the protein 1+, occult blood 2+. Kidney function test shown the serum creatinine 380umol/L.
After treatment in local hospital, his blood pressure lowered to 130/80mmHg, but the other symptoms didn't not get relieved.
On 6th,Jun,2015 he came to our hospital for further treatment. After admitted into our hospital, our doctor made a thorough examination for him. The blood routine test shown hemoglobin 125g/L. Urine routine test shown protein+, occult blood 1+. The kidney function test shown BUN 14.3mmol/L, serum creatinine 320umol/L
Diagnosed as:
Chronic Glomerulonephritis,IgA Nephropathy, Kidney Failure, Renal Hypertensive
Treatments:
Four One Traditional Chinese Medicine, Acupuncture
Conditions after treatment:
After 45 days treatment, his appetite goes to good, the blood pressure downs to 120/80mmHg. The routine urine shows the blood cell count 4.10×1012/L, hemoglobin 123g/L. The routine urine test shows that the protein -, occult blood -. The kidney function shows BUN 13.4mmol/L,UA 502umol/L,Serum Creatinine 263umol/L.
After treatment, he back to his work and find his way back.If you want to live a quality life just like him or want to control you disease well , you can send email to us or consult our doctor on WhatsApp/Viber directly, we will try our best to help you.
Our email: kidney-treatment@hotmail.com
Our WhatsApp/Viber: +8618395615012
Any questions? Fill the form below. You will surely get the free medical advice from experts within 24 hours.