FSGS Relapse after Taking Renal Transplant: Chinese Medicines Helps Me A Lot
2016-06-29 17:26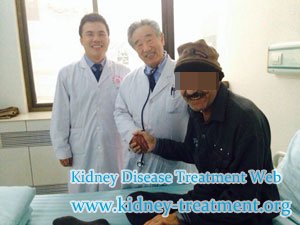 I am WAFEEQ, a 61 years old man. I want to say that i am very lucky to made this decision to treat my disease abroad, so that i can meet those friends and family members here in Shijiazhuang Hetaiheng Hospital, they give me courage to fight with my disease and help me to live like a normal person.
10 years ago, edema appeared in my body, then the test shown protein 2+, occult blood-, but kidney function is normal.
8 years ago my blood pressure went to high, it was 150/90mmHg, serum creatinine increased to 2.4umol/L.
4 years ago, my disease went to worse, symptoms like anemia appeared one by one. Then, i made a decision to take renal transplant, but i never thought that 1 year and 3 months ago, my disease relapse again, the serum creatinine level increased to 2.8. Then, the doctor applied Prednisone and Immunosuppressant to me but still cannot control the disease, serum creatinine level increased to 9.2, blood pressure increased to 200/95mmHg.
In order to seek further treatment, i came to Shijiazhuang Hetaiheng Hospital on August 8, 2015. Then my blood pressure has up to 200/95mmHg, Hemoglobin 62g/L, protein 2+, occult blood+, BUN 67.1mmol/L, serum creatinine 1422umol/L, UA 452umol/L
After analyzed, the experts team made me a treatment plan that are Dialysis 3 times/week, 4 hours/time(to dispel the toxins and extra fluid out of the body). Oral Chinese Medicine, Foot Bath Therapy and Hot Compress Therapy( to protect kidney function and promote blood circulation).
Only after 25 days treatment, my disease condition went to steady. Then, my blood pressure downs to 130/80mmHg, the test shown that my Hemoglobin 73g/L, serum creatinine 691umol/L, UA 327umol/L, BUN30.5mmol/L, protein turns to +, occult blood-.
I am so lucky to control my 10 years edema, what's more, i can control my disease well even after the transplanted kidney went to failure. Really, hope that all the kidney disease patient can get their disease under control.
Any questions? Fill the form below. You will surely get the free medical advice from experts within 24 hours.