Can Diabetes Cause Kidney disease
2014-02-13 05:24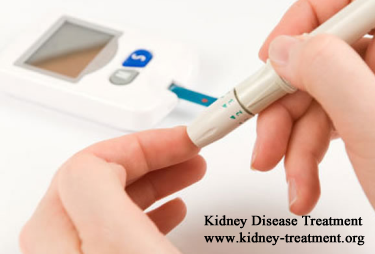 As the research shows that patients with diabetes always have some problems with kidney, many people come up with an idea that diabetes can lead to kidney disease. However, is this idea reasonable and scientific? Here we give you a satisfied answer that diabetes really can cause kidney disease.
Why diabetes can cause kidney disease?
For patients with diabetes,there is something wrong with insulin secretion, or the biological function of insulin is damaged. Insulin plays an important role in promoting cells in the body to take in sugar from the blood. As a consequent, if insulin has something wrong, the body will have the sign of high blood sugar. The kidneys have to bear more burdens to remove the wastes and fluids from the blood, leading to filtration damage. In the healthy filtration process, the protein is hard to pass away through urine.Nevertheless, protein will leak out and flow away in the urine when filters are impaired. Protein leaking is very serious for worsening the kidney disease, and if not treated timely,the kidney will continue being damaged and lose all the functions at last, leading to end stage kidney disease. In this situation, patients have to choose dialysis or kidney transplant to save the life.
What can be done to reduce the risk of kidney disease?
Patients with diabetes can get proper treatment and keep a healthy diet and lifestyle to lower this risk. See the following:
1.Medicines for lowering blood pressure are very effective to slow down the kidney damage. Angiotensin-converting enzyme (ACE) inhibitors and angiotensin receptor blockers (ARBs) are the most commonly used for lowering blood pressure.Besides, some other drugs may be also needed, such as diuretics,Beta blockers, calcium channel blockers,etc.
2.Patients should keep low protein in a diet.Too much protein can worsen kidney disease. Patients need to avoid high protein diet.The best way is to ask doctors and dietitians for dietary advice.
3. Keep blood sugar level in the normal range. As insulin is not produced enough or body has no reaction to insulin, glucose can't be processed, leading to buildup of much glucose. Too much glucose can aggravate burdens on kidney. Patients should follow a health diet to reduce intake of sugar and do some physical activities to consume sugar in the body. Besides, they need to test blood glucose frequently. In clinic, keeping blood sugar level close to normal is called intensive management of blood glucose.
From the above, we can know diabetes can cause kidney disease. Patients with diabetes should do their best to prevent or treat kidney disease. If not treated timely, patients with diabetes will have end stage kidney disease.
Any questions? Fill the form below. You will surely get the free medical advice from experts within 24 hours.