On Dialysis is Peach Good to Eat
2014-09-09 03:46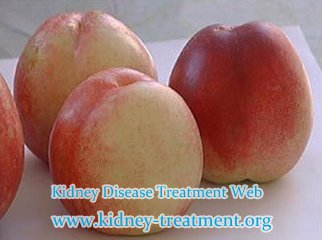 Most people like peach due to its good taste and rich nutritions, so do the patients. Then can patient undergoing dialysis eat it ? Experts said that, it depends on the patient's disease condition. If their potassium level is high, they should not eat peach, if not, they can eat it. If you have other questions, you can chat with our online doctor directly, if no, you can read on and learn more informations about the diet.
Peach is rich in protein, calcium, potassium, phosphorus,iron,Vitamin B and C and sugar, so it is good to eat. But if you are a patient with high potassium level, you should avoid to eat it, otherwise, you may get hyperkalemia. In addition, peach is rich in water, so if you are a patient with swelling, it is also not suitable to you.
In one word, If you are a person with Chronic Kidney Disease without high potassium level and swelling, you can have some but not too much. And if you are a patient with Diabetic Nephropathy, you should avoid to eat it, as we mentioned above, it is rich in sugar.
Doctors always recommend patients to eat more vegetables and fruits but not all of them are good to Chronic Kidney Disease patient, especially the patient who are on dialysis. So you'd better make a diet plan according to your own condition. If you need any help in making your diet, you can consult our online doctor or leave messages to us.
If you have other questions about your disease, you can email us with your detailed information, after analyze we will email you back. Our email: kidney-treatment@hotmail.com
Any questions? Fill the form below. You will surely get the free medical advice from experts within 24 hours.