What Kind of Food Patients with Stage 3 CKD Can Take
2013-10-18 16:52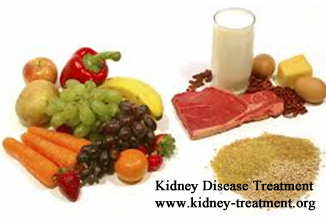 According to GFR (Glomerular Filtration Rate), CKD is classified into 5 stages. At different stages, different foods should be chosen. Only in this way, can patients stay for years without progressing into the next stage. Therefore, what kind of food patients with stage 3 CKD can take?
A person at kidney disease stage 3 will have a moderate decline in the GFR of about 30-59 ml/min, compared with the normal GFR of about 90-120ml/min. But the kidneys still function to remove part of fluid and wastes, though not very efficiently. And some symptoms will appear, such as fatigue (often a result of anemia), edema (too much fluid retention), back pain, insomnia and so on. So we can eat something to alleviate these symptoms.
In order to get rid of fatigue, it is better for patients to take foods that contain rich vitamin C which can promote the absorption of iron and lessen anemia, as a result, fatigue will leave. Food rich in vitamin C: cauliflower, kiwi, orange juice, grapefruit and so on.
In order to get rid of edema, it is better for patients to avoid food that contains too much sodium, which will cause fluid retention in body and worsen edema. Food that contains less sodium: rice, pumpkin, eggplant, cucumber and so on.
In order to get rid of back pain, it is better for patients to eat something that can lessen the burden of kidneys, such as high quality protein which produces less waste so as to alleviate the kidney pains. Food which is good for kidneys: rhizoma cibotii, dipsacus root, semen cuscutae and so on.
In order to get rid of insomnia, it is better for patients to avoid tea, coffee and cola which contain much caffeine. And you can choose food which is helpful for sleeping: nut, longan, lotus seed and so on.
Patients' illness condition varies from one to one. Their food should also be different. If you want to know exactly what you can eat and what you can not eat, you can leave a message or contact our online doctors, and we will recommend a meal plan individualized for your needs.
Any questions? Fill the form below. You will surely get the free medical advice from experts within 24 hours.