Can the Patients with Stage 3 Kidney Disease Drink Carrot Juice
2014-05-06 09:24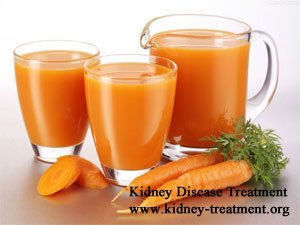 Can the patients with stage 3 kidney disease drink carrot juice? Because patients with kidney disease have many limitations on diet, they are very worried about their diets in order to prevent their illness condition worsen. We really understand your mood, so, we will answer you in detail, if you have any other questions, you can send your questions to kidney-treatment@hotmail.com and we are here waiting to help you all the time.
What benefits does carrot juice have to people?
Carrot juice is the product of carrot, and has many nutrients, such as a variety of vitamins and minerals, high carotenoid content and other nutrient elements. And specific benefits are as following:
1. Increase appetite.
Twenty minutes before a meal, drinking some carrot juice can increase your appetite and help you digest.
2. Make you beauty.
Because carrot juice is rich in vitamin A, which has the function of lubricating and improving skin tone.
3. Improve eyesight.
Carrot juice contains much beta-carotene and lutein, which can protect retina and improve eyesight, especially night vision.
4. Regulate blood sugar.
It is reported that carrot juice is good to regulate blood sugar, because there are high carotenoids that will lower blood sugar level.
5. Prevent cancer
Studies show that carotenoids in carrot juice also can decrease the risk of postmenopausal breast cancer. Besides, some studies also show that some substances (xanthophylls, gamma-carotene, lycopene, lutein and alpha-carotene) in carrot juice also can prevent cancers, such as bladder, colon, cervix, prostate, lung and larynx.
6. In addition, carrot juice can also help us fight anemia, improve our liver functions, promote lung heath, etc.
From the above, we know that we can benefit a lot from carrot juice, so does the patients with stage 3 kidney disease. But if you have hyperkalemia, you should pay attention to drink carrot juice. If without, drinking a little more carrot juice is good for your body. In order to get rid of the pain caused by stage 3 kidney disease, Micro-Chinese Medicine Osmotherapy and Immunotherapy maybe good choices for you, if you want to know more about them, you can leave your message below. Best wishes!
Any questions? Fill the form below. You will surely get the free medical advice from experts within 24 hours.