Kidney Disease Patient with Low GFR Level should I Drink More Water
2014-12-01 11:47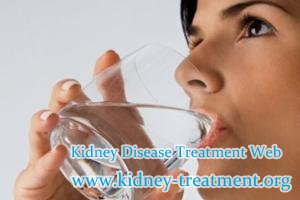 I have been told my GFR is low, should I drink more ? Actually for people with kidney disease, especially those people with swelling, doctors do not recommend them to drink much water, which may add work load to their kidneys.
In clinic, low GFR level means the kidney is damaged seriously, so it has trouble in discharge the wastes and fluid in blood. Under this case, if you take large amount of water, your kidneys may get further damage. So in order to relieve the kidney's work load, patient with kidney disease should drink proper water according to their own condition.
How much water should kidney disease patient intake ?
For patient in the early stage and without swelling in the body, they can drink like the normal person, if there are swelling, they should drink less water that can help them live better.
For people with kidney failure, they should drink water according to the outcome of their urine in 24 hours Most often, the patients with renal failure have less urine than the normal. If they drink too much water, they have to do dialysis to discharge the extra water. Therefore, they should measure their urine everyday strictly to know the amount of water, which they should drink the next day. Usually, the amount they should take is the sum total of urine the day before and 400~500ml/d. If the patient also has vomiting and diarrhea, the loss quantity should also be added.
For people with kidney failure and less or no urine, they should pay special attention to the water they intake. Because most of them usually dare not to drink any water, this easily causes dehydration, and the patients may also suffer from sleepiness, riots and coma if the dehydration is severe. Therefore, taking the correct amount of water is vital to maintain their life and furosemide intravenous injection may be needed since the situation is severe.
So for kidney disease patient with low GFR level, you should drink proper water according to your own disease condition. If you need any help in treating kidney disease, do not hesitant to contact our online doctor, we will try our best to help you.
Any questions? Fill the form below. You will surely get the free medical advice from experts within 24 hours.