My Creatinine Level is 2.4 and BUN is 68 How Can I Reduce Them Naturally
2015-01-31 14:56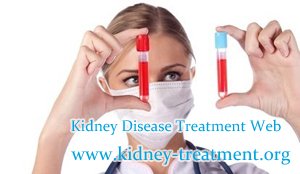 My creatinine level is 2.4 and BUN is 68 how can i reduce them naturally ? High creatinine and BUN levels are the common symptoms of kidney disease, the ways to lower them are concerned with many people, in the following i will share you some relevant informations, hoping it can help you.
What are the normal level of urea ?
The relevant level which is checked in a blood sample (and sent to the lab) is called the BUN (blood urea nitrogen). The normal BUN level is 6- 23 mg/dl in most labs.
Normal findings (in mg/dL) are 10 to 20 for adults, 5 to 18 for children and infants, 3 to 12 for newborns, and 21 to 40 for cord blood. In the elderly, the blood urea nitrogen may be slightly higher than the normal adult range. while a maximum limite of a normal range can reach 25 mg/100 ml.
What are the normal level of serum creatinine ?
A normal result is 0.7 to 1.3 mg/dL for men and 0.6 to 1.1 mg/dL for women.
Women usually have a lower creatinine level than men. This is because women usually have less muscle mass than men.
How can i reduce the high creatinine and BUN level ?
First you should make a fit diet plan according to your own condition, then form a healthy living habit, both of them are helpful for reducing the high levels of creatinine and BUN. But if you want to lower them permanatly you should take a systematic treatment. Chinese Medicine can treat the kidney disease from its underlying causes, if you are interested in it, you can consult our online doctor, we will try our best to help you.
Need any help in treating kidney disease or lowering the high creatinine level and BUN level, just contact us, we are here waiting to help you.
Any questions? Fill the form below. You will surely get the free medical advice from experts within 24 hours.