I Have Stage 3 Chronic Kidney Disease Can I take Vitamin D
2015-03-03 13:53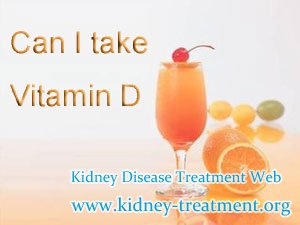 I have stage 3 kidney disease can i take vitamin D? It's not unusual for people with kidney failure to have low levels of vitamin D. Once you got low Vitamin D level, your doctor can tell you if a supplement is a good choice for you and if you need it.
Benefits of taking vitamin D
Vitamin D is responsible for:
Building and maintaining strong bones
Keeping the right level of calcium and phosphorus in the blood
Preventing bones from becoming weak or malformed
Preventing rickets in children and osteomalacia in adults
Too much vitamin D can be toxic. The recommended maximum intake is 25 mcg (1,000 IU) for infants and 50 mcg (2,000 IU) for children and adults with normal kidney function.
Can stage 3 chronic kidney disease patient take Vitamin D ?
For people with chronic kidney disease, it is not unusual for them to get lower levels of Vitamin D. As we know that this kind of nutrition plays an important role in keeping our health, so for those people who are lack of them, they should to take some of them.
But do remember always check with your physician before starting an over-the-counter vitamin, mineral, diet supplement or medicine. These items may be harmful to people with chronic kidney disease if not taken properly.
If you still have other questions or need any help in treating stage 3 chronic kidney disease, you are welcome to leave message below or chat with out experts on whatsapp, we will try our best to help you. Our whatsapp: +86 18395615012
Any questions? Fill the form below. You will surely get the free medical advice from experts within 24 hours.