Pay Attention To Three Treatment Mistakes When You Have Kidney Disease
2018-11-27 10:26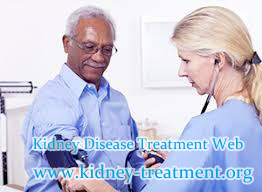 To most kidney patients they often make some mistakes during the course of treatment in their daily life,then as a kidney doctor i want to share something useful for you as following,the three major treatment " mistakes" will make kidney disease worse and worse.
First, treatment is to see a doctor and take medicine
In fact, outpatient treatment includes: Drug therapy, nutrition therapy, exercise therapy, psychological counseling and traditional Chinese medicine therapy. The doctor not only does the adjustment of medicine for you, but also does individualized nutrition treatment, exercise guidance, psychological counseling and traditional Chinese medicine adjustment for the patient. What is more important is that the patient should adhere to it with a high degree of consciousness and need lifelong management, which the doctor cannot complete for the patient.
The real treatment should be based on " repeated" communication between doctors and patients, adjustment of patients' lives and various aspects, and long-term self-management of patients.
Second, just follow the doctor's advice is ok
Many patients with kidney disease think that treatment is a doctor's business and they only need to follow the doctor's advice. In fact, no one knows your own situation better than you, and no advanced examination method can find out all the illness.
The best treatment should be a process in which doctors and patients work together to fight the disease. It is not a process in which patients blindly obey and doctors constantly try to make mistakes. Your opinions, feelings and attitudes have a great influence on the therapeutic effect.
Three, the number on the test form determines all
The significance of various examinations lies in: first, they are used to identify various symptoms and their degrees so as to formulate specific treatment plans; The second is to find out the changes of various symptoms so as to evaluate the treatment effect and adjust the treatment plan.
Therefore, good treatment is to enable patients to get a better life and rekindle hopes for life, not just to restore all the numbers on the test form to normal.
If you have any questions about the treatment please contact us through the following message:
E-mail: kidney-treatment@hotmail.com
Any questions? Fill the form below. You will surely get the free medical advice from experts within 24 hours.