What Can High Creatinine in Kidney Disease Tell Us
2016-12-02 15:39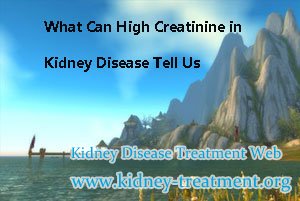 Almost all the kidney disease patients know that dialysis or kidney transplant are needed when serum creatinine level goes to high level. Well then, what can high creatinine level tell us? What should patient do when their creatinine level goes to high?
What can high creatinine level tell us?
High serum creatinine level not only indicates kidney function has been impaired, it also denotes there are lots of wastes in the blood. These toxic wastes circulate with blood, so they may damage any part of our body. This explains why dialysis or kidney transplant is needed when creatinine level increases to a very high level (5mg/dL). For kidney failure patients, if they take no effective treatment, toxins in the blood will damage their heart, nerve system and digestive system, causing various discomforts or death. Dialysis show direct and quick effect in purifying blood and clearing creatinine, so dialysis is urgently needed when kidney failure patients begin to experience severe nausea, vomiting or fluid retention.
What should patient do when their creatinine level goes to high?
Serum creatinine level may increase due to different factors like improper diet and medicines, but for kidney disease patients, they should be alert when their creatinine level in blood becomes higher than the normal range, as clinical studies show that serum creatinine does not increase until a half of kidney function is affected and increase of serum creatinine means kidneys have been injured severely. Seeing from this point of view, a timely diagnosis and treatment are of great significant for kidney disease patients to stop or slow down their illness progression.
If you want to reduce the high creatinine level or want to treat kidney disease well, you can send email to us, we will try our best to help you.
Our email: kidney-treatment@hotmail.com
Any questions? Fill the form below. You will surely get the free medical advice from experts within 24 hours.