How Does Diabetes Cause Kidney Disease
2013-10-07 16:00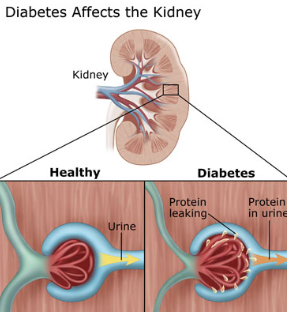 Diabetes is a most common factor to cause kidney disease. Kidney disease caused by diabetes is called diabetic nephropathy. Not every one with diabetes will have diabetic nephropathy, and there are about 20%-30% patients with type 1 and type 2 diabetes have nephropathy. Diabetic nephropathy is one of diabetic microvascular complications. It is a kidney disease caused by years of high blood sugar. Well then, how does diabetes cause kidney disease on earth?
Tiny blood vessels and glomerulus are damaged
There are a large quantity of tiny blood vessels and glomerulus in our kidneys. These tiny blood vessels and glomerulus have the ability to filter waste products and toxins out the blood. For patients with diabetic, their blood contains high sugar which may increase capillary permeability, and cause hypertransfusion and hyperfiltration of glomerular. These factors make glomerulus overwork. If this situation keeps for a long time, glomerulus will become hypertrophy, leading to proteinuria and glomerulosclerosis. As a consequence, diabetic nephropathy is formed.
Blood pressure has been elevated
High blood pressure caused by diabetes is another main reason to cause kidney disease.
* Diabetes can increase the total amount of fluid in the body, which tends to raise blood pressure.
* Diabetes damages arteries and make them hardening, called atherosclerosis. Atherosclerosis can increase the blood pressure.
Now that we know the diabetes can cause kidney disease, what can we do to manage and control its development? Generally, we need to make diet changes to protect residual kidney tissues. In daily diet, we need to eat low-salt foods and low-fat food, limit the intake of protein. But we can eat some high quality protein, such as fish, lean meat, and milk.
Besides, type 1 diabetes patients have to take a urine test every year after they have had diabetes for five years; type 2 diabetes patients should check their urine every year as soon as they are diagnosed with diabetes. (If you are interested in how to prevent kidney problem or kidney failure with years of Diabetes, please leave message to us directly, our experts will reply you and offer you related information within 48 hours.)
Any questions? Fill the form below. You will surely get the free medical advice from experts within 24 hours.