Home Remedies for Diabetic Nephropathy Patients
2015-02-20 14:05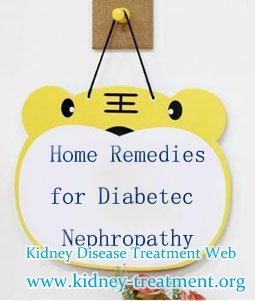 With timely and scientific treatment, Diabetic Nephropathy can be controlled effectively. But do you know that except the hospital treatment, the home remedies also plays an important role in treating this kind of disease. The following are some home remedies for Diabetic Nephropathy hoping it can help you in some degree.
1. Healthy lifestyle
Diet sometimes can be regarded as a fundamental treatment for diabetic nephropathy. At the early stage of the disease, patients should limit the protein intake and choose the high quality protein to decrease the kidney burden and support the daily activities of patients. And patients can have proper exercises, quit the smoking and drinking, have a good rest, prevent infection, correct the blood fat disorders to remit the renal arteriole sclerosis and so on. All of these is very necessary for diabetic nephropathy treatment.
2. Controlling high blood pressure
High blood pressure is accompanied with diabetic nephropathy.and high blood pressure can lead to further damage to the kidney, forming a vicious circle. So preventing and controlling high blood pressure play an important role in preventing the blood vessels lesions.
3. Controlling high blood sugar
Keeping the blood sugar in the normal level can decrease the complications and delay the blood vessels lesions. So you should take those medicines the doctor prescribed for you, do not quit it before get your doctors permission.
We really hope that those home remedies we mentioned above can do something for you. And if you want to know more information about diabetic nephropathy or need any help in treating Diabetic Nephropathy, you can leave message to us or consult our online doctor directly, we will try our best to help you.
Any questions? Fill the form below. You will surely get the free medical advice from experts within 24 hours.