Swelling in Diabetic Nephropathy: How to Treat It
2016-06-04 17:49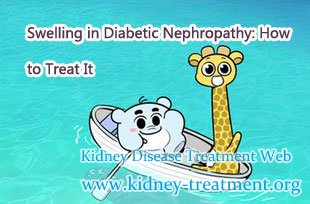 Swelling is a common symptoms of the kidney disease, especially for patients with diabetic nephropathy. If you have diabetic nephropathy and severe swelling, you should pay high attention to it and treat it timely.
Kidney has many kidney nephrons, which can effectively filter waste products of the body. Without good control of blood glucose, the kidneys will work harder to filter the excess sugar in the blood. Over time, the nephron will gradually necrosis due to excessive work, proteinuria is usually the first sign of diabetic nephropathy, and then high blood pressure and swelling.
Why Diabetic nephropathy patients are easy to get swelling?
1. proteinuria is an important reason for the development of diabetic nephropathy.
If the protein level in blood higher than the level of the blood pressure of the tissue space. Some amount of fluid will leak into the subcutaneous tissue in the body, resulting in swelling.
2. The damaged kidneys can not remove excess fluid in the body effectively, thus lead to the gravity circulation and swelling occur at the ankle. Without effectively control the body of excess fluids can spread to other parts of the body such as the abdominal cavity, lungs, heart and other vital organs and body systems. Therefore, early treatment of the patient's body to eliminate edema is very necessary.
How to treat swelling in Diabetic Nephropathy?
1. Restricting fluid and protein consumption, reducing the consumption of protein can effectively reduce the burden on the kidneys.
2. The cause of swelling is renal function impairment, so treatment should focus on rebuilding the damaged kidneys and improve kidney function. Only in this way the patient can manage the disease progresses.
If you want to relieve swelling in Diabetic Nephropathy or want to get Diabetic Nephropathy under good control. You can send email to us, we will try our best to help you. Our email: kidney-treatment@hotmail.com
Any questions? Fill the form below. You will surely get the free medical advice from experts within 24 hours.