Causes and Treatment of Muscle Cramping in Kidney Failure due to dialysis
2014-09-02 03:39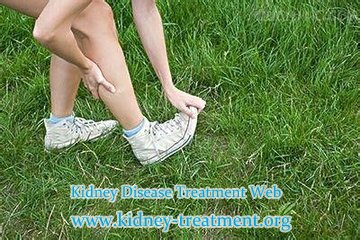 Muscle cramping is one of the common complications of dialysis, it accounts for about 20% of it and easy to occurred among the aged people and dehydration patient at the middle or later period of dialysis. It bring more pains to the people who are suffering from Kidney Failure, so people are looking for some ways to solve this problem. If you want to know it quickly, you can chat with our online doctor directly.
In order to give more accurate treatment, you need to know the underlying causes clearly. If Ultrafiltration too much and too fast, the waste in the body such as creatinine and urea nitrogen will be discharged in a short time, the body can not suit to the changes and induce muscle cramping. There are mainly three causes of ultrafiltration too much and too fast happens, they are eat too much, drink too much and inadequate dialysis. If you want to solve this problem, you need to control the food and water intake, the more important thing is to take dialysis in time that can ensure you adequate dialysis.If you are suffering from high blood pressure, heart failure or swelling, you also should control salt intake. Besides that you also should pay attention to your weight that also may induce inadequate dialysis. If you need more details about this, you can leave messages or consult our online doctor.
In order to reduce the pains the patients suffering form dialysis, you need to do prevention actions in advance. Secondly, you need monitor the changed during the treatment that can help patients suffer less pain.
If you need any help in relieve the pain caused by Kidney Failure or dialysis, you can email us, we are here waiting to help you. Our email: kidney-treatment@hotmail.com
Any questions? Fill the form below. You will surely get the free medical advice from experts within 24 hours.