Creatinine 4.4 and Vomiting, Should I take Dialysis Instantly
2017-09-04 16:17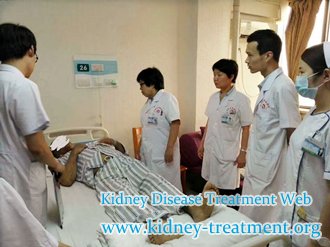 Patients:" Good morning, doctor. I have vomiting for a week. My doctor has given me some medicines and told me that if I can not quit the vomiting in a month, I must do dialysis. My creatinine level is 4.4 and I can not bear the vomiting any more. Should I take dialysis instantly?"
Doctor: It is understandable that you want to get rid of vomiting by dialysis. However, do you clearly know about your illness conditions and dialysis?
For your case, vomiting is likely be caused by the deposited poisons which should be cleaned away from body thoroughly by the healthy kidney. Also, with too much these harmful substances in the body, your kidney will go worse and also the impacts of other treatments will be depressed. This is why the medicine you take do not reach your ideal. Moreover, as long as the kidney is not recovered well, the vomiting will come back over and over again.
Dialysis is a artificial machine for replacing the lost kidney function in patients with kidney failure. Certainly, the kidney disease patients with serious symptoms will begin dialysis earlier. During the period of dialysis, you may undergo some discomforts including vomiting. Additionally, once you begin dialysis, you need to go for dialysis termly as it is not a treatment to recover the kidney function.
Therefore, please contain to take the medicine to see if your vomiting can be controlled. Except for this, I suggest you to take a well-planned diet and to receive another treatment which can treat the vomiting from the root causes, that is from repairing damaged kidneys and improving kidney function. The delicious and safe foods can help you take in enough nutrients and the treatments can help you get rid of vomiting fundamentally, which are beneficial for your to feel better.
What I must tell you is that if the vomiting can not be limited in short time, you have to do dialysis in the near further. If you do not mind, please send your medical reports to kidney-treatment@hotmail.com, and thus, I will give you more relative information freely.
Any questions? Fill the form below. You will surely get the free medical advice from experts within 24 hours.