What Diet Can Help Delay Dialysis for Kidney Disease Patients
2014-02-04 06:14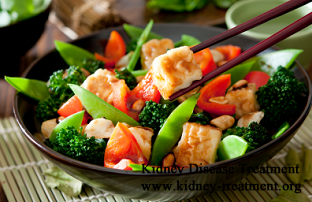 What diet can help delay dialysis for kidney disease patients? as we know, dialysis is a common treatment for kidney disease patients when they are in advanced kidney disease. However, dialysis cant prevent the completely failed kidneys and people will suffer from some symptoms and complications when they are on dialysis, so many people with kidney failure are afraid to start dialysis. They may want to have some right diet which can help them delay their dialysis.
Eating a kidney-friendly diet can help kidney disease patients to reduce their kidney burden and slow down the progression of their kidney failure. In this condition, kidney failure patients can delay their dialysis. Here are some common dietary principles for kidney disease patients to help them delay their dialysis.
- Low protein diet
- Low salt and low sodium diet
- Low fluid diet
- Supply enough vitamins
If kidney failure patients follow this dietary plan, their symptoms such as proteinuria, swelling, high blood pressure and poor immunity can be improved, and this can help protect the residual kidney burden. So patients can delay their dialysis through this dietary principle.
Besides, depending on patients' individual condition, they should also follow their own right diet. For example, patients who have high phosphorus or high potassium levels, they should limit their phosphorus and potassium intake in their daily diet.
In addition, as the type of kidney disease for patients may different, so with different type of kidney disease, patients should follow their own specific diet. For example, patients with IgA nephropathy, they are often recommended to take fish oil, which can help prevent the inflammations on their kidneys. And for diabetic nephropathy patients, they should firmly control their high sugar level, which can help prevent further kidney damage, so they need to limit their sugar intake in their daily life.
From above we can know that for patients with different kinds of kidney disease, they should follow their own dietary principles. If you want to get the detailed and specific kidney-friendly diet, you can send your test report to kidney-treatment@hotmail.com. We will answer you in 24 hours.
Any questions? Fill the form below. You will surely get the free medical advice from experts within 24 hours.