What Is The Appropriate Diet For Hemodialysis Patients
2018-07-02 09:06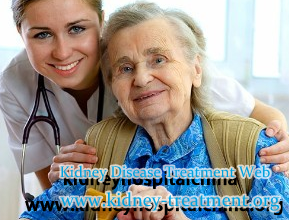 When a patient develops to the end stage of kidney disease, he has to accept the dialysis treatment to discharge large quantity toxins from his body, and how to improve his kidney condition is an important thing to him and his family.Especially the diet plan is more important in daily life.To most kidney disease patients they must restrict the diet to ensure the stability of his kidney condition, but after doing dialysis he can change the diet plan to ensure the enough nutrients for his metabolism.
Some dialysis patients think that it is wrong to eat a low protein diet when doing dialysis. Because when dialysis is done, part of the protein will be lost with the dialysate, the patient should hence increase the protein intake, daily intake of 1 ~ 1.2g/kg. At the same time, you should also take in enough calories and take in 30 to 35 kcal/kg of calories per day. In order to reduce lipid metabolism disorders in uremic patients, animal viscera and animal fats and oils should be excluded from the diet, and high-quality animal protein such as eggs, fish, and beef should be eaten.
Limiting sodium, potassium and phosphorus salts in hemodialysis patients
Dialysis patients should strictly control the intake of sodium, potassium and phosphorus salts, and can eat about 6 grams of sodium every day. If there is severe hypertension or edema, they should be limited to 3g/day. Blood hemodialysis patients intend to increase potassium, high potassium and can lead to severe arrhythmias, even cardiac arrest. Therefore, should avoid eating high potassium foods such as oranges, grapes, bananas, peanuts and so on. In order to minimize the potassium content in the diet, green leafy vegetables can be soaked for more than half an hour, eat less soup, root vegetables should be peeled, cut into thin slices, soaked in water and cook. In addition, patients should eat more foods high in calcium and phosphorus, such as egg yolks, animal organs, bone marrow, etc., nut foods containing more phosphorus, should avoid eating more.
Limiting water for hemodialysis patients
Hemodialysis patients should strictly control water intake, such as excessive water intake, heart failure, high blood pressure, acute pulmonary edema, and even death. Such as a large number of ultrafiltration, there will be low blood pressure, vomiting, muscle spasm, after fatigue and so on. In order to reduce the thirst, you should avoid drinking strong tea and espresso. You can add lemon slices or mint leaves to the drinks.
So you must pay attention to the comment above which can cause the diabetic nephropathy , and change the bad life habit and develop good habit to avoid the diabetic nephropathy. By the way as a international hospital in China, Beijing Tongshantang Hospital of Traditional Chinese Medicine has developed a special natural treatment for the kidney disease patients, so if you want to know more about it please contact us through the following message:
E-mail: kidney-treatment@hotmail.com
Kidney Treatment Group:
Any questions? Fill the form below. You will surely get the free medical advice from experts within 24 hours.