Adequate Dialysis for ESRD
2016-10-24 15:20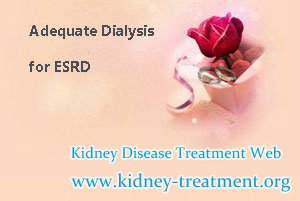 Most of patients know that adequate dialysis is important for them to live longer but few of them know what is it, then what is adequate dialysis for people with End Stage Renal Disease (ESRD) ?
In fact, different disease condition need different time to ensure adequate dialysis. Doctors will decide it according to the patient's own condition. For patient with more than 800ml urine volume for each day, that indicates there are remaining more than 8ml/min kidney function, they need to take 10-12 hours for each week. If the urine volume is less than 800ml/day, they need to take 12-15 hours for each week, three times is better. For people who have no urine (that means no residual kidney function left), they need to take longer time to reach adequate dialysis, 3 times per week, 4-5 hours per time is in need.
Why adequate dialysis is important for ESRD patient?
If people can not get adequate dialysis, the wastes and toxins in blood can not be excreted totally, so that will induce some complications, which will affect the patient's life quality greatly, even, increase the infection rate, that will make the disease more complex. So adequate dialysis is really important for people with ESRD.
In one word, adequate dialysis is the key point to improve the patient's life quality before they get other alternative therapy or kidney transplant. So remember to communicate with your doctor timely, that can assure you to have a quality life.
If you need any help in treating ESRD or want to treat ESRD without dialysis, do not hesitant to contact us by email, we will reply you as soon as possible.
Our email: Kidney-treatment@hotmail.com
Any questions? Fill the form below. You will surely get the free medical advice from experts within 24 hours.