Can I Consume Acetaminophen If I Have Nephrotic Syndrome
2013-09-20 16:52
Question: I want to know if I can take cough medicine containing acetaminophen when I'm already taking prednisone and lisinopril for Nephrotic Syndrome.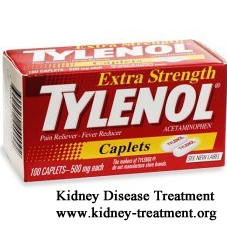 Answer: Because of low immunity, Nephrotic Syndrome patients are more likely to suffer from cold, cough and infection. Any of them may cause the relapse of Nephrotic Syndrome. In this condition, patients need to take medications to avoid complications of these problems.
Just like aspirin, acetaminophen it also used commonly to manage fever, headache, cough and inflammation caused by cold. However, it has certain renal toxicity.
A small dose of acetaminophen may not cause kidney damage with doctor's guidance, but the long-term use of acetaminophen can lead to irreversible kidney damage. Since you have had Nephrotic Syndrome, you should pay more attention to the use of this drug.
To treat cold, cough and infections for Nephrotic Syndrome patients, we would like to introduce some herbal medicines that have less side effects than western medicines. What's more, herbal medicines can also regulate your immune system to help you fight against your disease. If you want to find a herbal medicine suitable for you, you can leave a message to kidney-treatment@hotmail.com.
Any kidney problems? Please consult our online doctor. The satisfaction of patient is as high as 93%.
Have a question regarding kidney disease? Get an answer from Medical Professional now!