What to Expect with Kidney function 10%
2013-10-04 14:38
Patient: I just found out that my son's kidney is functioning at 10%. He is 26 and what should I expect?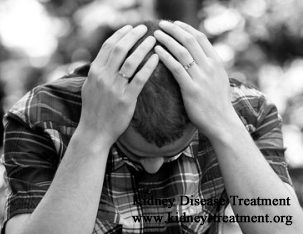 Doctor: Hey, thanks for leaving us message. We are so sorry to hear your son is suffering. How is his illness condition? Hope he feels better now.
Kidney is the organ that takes charge of filtering blood. During this process, proteins are preserved in the body and wastes like creatinine are discharged. In general, when kidneys are injured and kidney function is impaired, various discomforts like high blood pressure, tiredness, foamy urine and poor appetite will appear. Therefore, we can not live without healthy kidney.
You said your son's kidney is functioning 10%. I have to say it is really a dangerous condition. In such a case, toxins build up in the blood quickly. And these toxins may cause damages on other internal organs. Therefore, dialysis is necessary for patient with serious kidney problem. As for your son, has he started dialysis? Dialysis can help him excrete wastes from blood and this helps to lower his risk for serious complications like heart failure. Therefore, if your son is suffering from severe discomforts like vomiting, itchy skin and pulmonary edema, I suggest him to do blood purification methods like immunoadsorption and plasma exchange, in case of more serious illness condition. Besides, if he is on dialysis now, how long he has been on dialysis? Does he still have urine output? Kidney is responsible for filtering blood and producing urine. Urine output means there are still healthy kidney function, under such a condition, it is possible for medicines to flow into kidneys to repair injured kidney intrinsic cells through bloodstream. Therefore, if he still has urine output, he can try Micro-Chinese Medicine Osmotherapy, which can help to improve his kidney condition. As long as his kidney condition is improved to be more than 10%, his dialysis frequency can be reduced or even he can get off dialysis.
Your son is 26 years old. He is very young and there is a long way to go. Therefore, I hope we can provide more helpful, so as to increase his life span and improve his life quality. We do not know much more about your son's illness, so we are sorry we can not give you lots of useful suggestions. I suggest you to send your son's test report to kidney-treatment@hotmail.com. Our nephrologists will help to analyze and then reply you within 48 hours.
Any kidney problems? Please consult our online doctor. The satisfaction of patient is as high as 93%.
Have a question regarding kidney disease? Get an answer from Medical Professional now!