Is Renal Transplant the Best Choice for Kidney Failure Patient
2015-09-06 16:06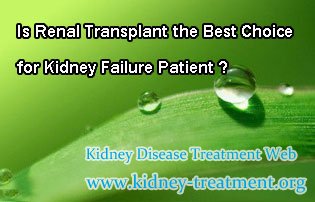 Q: My mothers age is 66, just day before her creatinine level is 9.3 ( predialysis). her dialysis frequency is twice in week. She has severe cough since from 9 years and now its much increased. And now days low apatite, nausea are her symptoms. She also has hypothyroid. I want to know is this situation suitable for kidney transplant ? Or is there any other treatment can be the alternative treatment of renal transplant ? Thank you so much doctor. I hope your opinions will give me some direction for treatment and way forward.
A: From your description, i have the general idea about her condition. as the kidney failure patient now, there is much toxin in her body ( such as Creatinine , urea) and her immunity is so low, there is the inflammation in her body. for her condition now, even if the transplant is going on, the inner environment in her body is not stable, which is not good for the new kidney live, what's more. as the transplant patient, she will have to take the anti-rejecting medicine all her life, which belongs to chemical medicine , long time for it, which can bring much burden to her kidneys, you know 70% waste of body should be removed through the kidneys. so finally, she will face the kidney failure again. so for her present condition, we do not suggest the patient take transplant.
In fact, for patients who just take the dialysis for two or three months, Micro-Chinese Medicine Osmotherapy will be a better choice than renal transplant. This treatment is based on the traditional Chinese medicine and belongs to conservative treatment, having function of removal of toxin, expanding blood vessel, anti-inflammation and promote the blood circulation to improve the kidney function of kidney patient, thus to help them get rid of the dialysis.
If you are interested in Micro-Chinese Medicine Osmotherapy or need any help in treating kidney failure, you can send email or leave message to us, we will try our best to help you.
Our email: kidney-treatment@hotmail.com
Any kidney problems? Please consult our online doctor. The satisfaction of patient is as high as 93%.
Have a question regarding kidney disease? Get an answer from Medical Professional now!