When should Kidney Cyst Patient Take Treatment
2016-10-17 16:43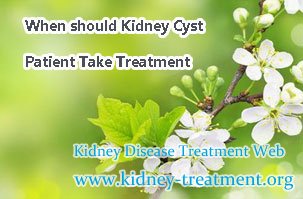 In general, the simple cysts need not to treat, but the complex cysts need to take treatment earlier, the earlier the better. Then, when should kidney cyst patient take treatment?In clinic, most of the simple cysts are small and these are thin walled sac filled with fluid. So they won't induce any symptoms, so there is no need to treat them. But if the kidney cyst size becomes larger, the cyst can cause pain on back, belly or sides, fever, blood in urine and increased urination. Another type of kidney cysts are called complex cysts because of their irregular and comples structures. Only those complex cysts which have many thick walls with septations can develop into cancer.
Sometimes kidney cysts are inherited and can cause problems like pain on back, belly or sides, increased urination, repeated kidney functions, high blood pressure and blood in urine. Inherited kidney cysts are called Polycystic Kidney Disease (PKD) with different kidney cyst sizes.
Generally speaking, if the kidney cyst size is less than 3cm, no particular treatment is needed, because there is no obvious symptoms and the kidney cyst has not influenced the normal life. With the kidney cyst size increasing, some obvious symptoms may appear. At this time, a proper treatment to shrink the cysts is needed to improve the quality of life. As a matter of fact, that whether a treatment is needed or not depends on the obvious symptoms, not only a kidney cyst size.
If you want to know more about the kidney cyst or want to know how to treat it, you can send email to us or leave message below, we will try our best to help you.
Our email: Kidney-treatment@hotmail.com
Any questions? Fill the form below. You will surely get the free medical advice from experts within 24 hours.