Will Kidney Stone Lead to Kidney Damage
2016-10-19 15:52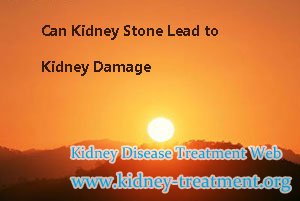 To be frankly, kidney stones are likely to lead to kidney damage, even Renal Failure if people do not treat the kidney stones timely.
How can kidney stone lead to kidney damage?
Kidney stones that are left in the body for periods of time can affect the flow of urine through the kidneys. In certain types of kidney stones, the jagged edges may damage small vessels in the kidneys as it passes causing scarring. In that case, the appearance of high creatinine level will seem to be reasonable, as kidney damage and impaired kidney function has been formed.
How to treat kidney stone?
As to the treatment for large kidney stones, in addition to using sound waves to break up stones; surgery to remove very large stones in the kidney; using a scope to remove stones and parathyroid gland surgery, experts say Chinese herbal medicine can be another treatment option. Through degradation, Chinese herbal medicines can help narrow the kidney stones, and finally they can be removed out of body with urine. The whole process will not produce any side effects because all of the Chinese herbal medicines come from the nature.
If you are suffering from high creatinine levels, apart from treating your kidney stones, repairing kidney damage and recovering kidney function become the most important things, so that you can prevent your disease developed into Kidney Failure.
If you have other questions about the treatment of kidney stone or kidney disease, you can send email to us or leave message below, we will try our best to help you.
Our email: kidney-treatment@hotmail.com
Any questions? Fill the form below. You will surely get the free medical advice from experts within 24 hours.