3 Dialysis in 5 days, Creatinine 5.5, Can Kidney Function Normally Again
2013-11-06 16:43
Question: My Aunty is 66 years old. She got 3 dialysis in last 5 days. Now creatinine is 5.5. Does she have both kidneys damaged or one? Will her kidneys function normally again?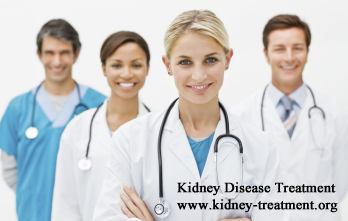 Answer: As you said she has done 3 dialysis in last 5 days, so I am sure both her kidneys are injured. Normally, each of us have two kidneys which has functions of producing urine, regulating blood pressure, maintaining balance of fluid and electrolyte and so on. When only one kidney is affected, there is at least 50% healthy kidney function. In that case, our illness is not serious enough to ask us to do dialysis. However, with a half of kidney function, we will experience a series of symptoms like high blood pressure, electrolyte disturbance, fluid retention and decreased urine output and so on.
Creatinine is a waste that needs to be discharged with urine. When kidney function is impaired, creatinine produced in the body can not be removed. Under such a condition, lab tests show high levels of creatinine in blood. Normal creatinine level ranges from 0.5-1.3mg/dL. Creatinine 5.5 is several times higher than the reference value. Dialysis is usually suggested when creatinine level is increased to 5. Dialysis is the most direct way to lower creatinine level in blood, but for your aunty, her serum creatinine level is still very high after dialysis, and this may indicate insufficiency of dialysis. I suggest you send your Aunty' test report to kidney-treatment@hotmail.com. Our nephrologists will help to analyze and then offer some useful treatment suggestions.
Lastly, you asked if her kidneys will function normally again. As for this question, I am sorry to tell you that Chronic Kidney Failure can not be cured currently. In an affected kidney, there are healthy, damaged and necrotic kidney intrinsic cells. Necrotic kidney cells can not be revived, so Chronic Kidney Failure can not be cured, but fortunately, injured kidney intrinsic cells can be repaired, so impaired kidney function can be improved to some extent. For your aunty, I suggest her to try Chinese medicine. Chinese medicine has history more than 5000 years and with the help of it, even if your aunty can not get off dialysis, her dialysis frequency can be reduced effectively.
Any questions? Fill the form below. You will surely get the free medical advice from experts within 24 hours.