What Should I do With 19% Renal Function
2017-07-05 11:49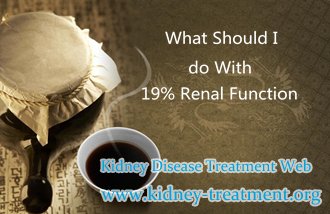 P: Hi, Doctor.
Dr: Hello, is there anything I can help?
P: One of my friend age 28 years. And his left kidney split function is 19%.
P: Also kidney is near gall bladder.
Dr: Any symptoms now? Like foamy urine, swelling, fatigue, back pain, anemia, itching, etc.
P: Little bit back pain.
P: And abdomen pain
Dr: Do you know what cause the kidney damage?
P: No.
Dr: Ok, I see. In generally, there are many reasons leading to kidney damage, such as, bad environment, improper use of drugs, terrible living habits, some illness (hypertension, diabetes, lupus and so on). He should make sure what leads to the kidney damage so as to treat the disease fundamentally.
At first, he would better take the renal diets and follow the healthy living style in order to slow down the injury of the kidney. In the meantime, he is in need of an effective treatment to recover the renal function. Otherwise, they will take dialysis finally.
If possible, please send me his lab test reports. And then, I can analyze his conditions to tell you the details of how to control the situation (including suggestions of diets and natural treatments).
Here is my contact information. If you have any problems, you can contact me at any time. I am glad to help you.
E-mail: kidney-treatment@hotmail.com
Tell: +8618395615012
Any questions? Fill the form below. You will surely get the free medical advice from experts within 24 hours.