Can I Recover My Kidney to Normal
2017-09-05 11:28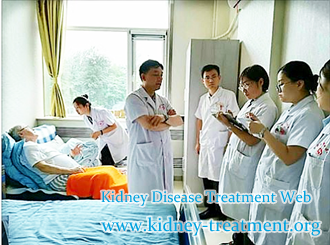 Doctor: How are you?
Patient: This time OK. Fine, thanks. I am dialysis people. I got kidney disease. Are you working Dr from shijiazhuang kidney disease hospital?
Doctor: Yes. I am a assistant of renal doctor. How many years do you have dialysis?
Patient: Dialysis around 3 month ready from start 20 jun 2017.
Doctor:OK, i see. Do you still have urine?
Patient: I still have but litter. Only early after I wake up from sleep get 30ml.
Doctor: Having urine means that you still have kidney function.
Patient: Yes, but I check on my kidney function only 4%.
Doctor: OK, you need to improve kidney function as soon as possible.
Patient: My story like this before 2017 I got know my protein leak on 2015 only eGFR 59%.
Doctor: Do you have test report? Can you send it to me?
Patient: Are DR want the new?
Doctor: Yes, the latest one. Can you send it to my email kidney-treatment@hotmail.com?
Patient: OK.
Patient: Good afternoon Dr. So, how are you check my report?
Doctor: I will check it right away.
Patient: Thanks Dr
Doctor: For now, you need a systematical treatment to save the kidney function.
Patient: Systematical treatment is what? This treatment can save my kidney?
Doctor: Chinese treatment is the systematical treatment to treat kidney failure. Yes, it can protect the residual kidney function.
Patient: I mean can save is normal.
Doctor: sir, since you have dialysis for such a long time, it is very difficult to make it normal.
Patient: OK, how much the cost and how long time I need take this treatment?
Doctor: Treatment cost and time mainly depends on your condition. How about you know more about our treatment and then you decided to come to our hospital or not.
Patient: I have search your hospital 2 year ago after I know I got protein leak, but I not talk to more about this. So, now I dialysis ready on jun 2017 until now and also I got contact your nurse. So, she help me talk about your hospital and treatment. I also plan need take your treatment. I hope can take your treatment and normal my kidney.
Doctor: It is sorry to tell you that it is almost impossible to make your kidney normal since your kidney is already damaged a lot. But, we will try our best to help you live a stable life and prolong your life expectancy as long as possible.
Patient: OK, thanks dr your help.
Doctor: You are welcome.
Any questions? Fill the form below. You will surely get the free medical advice from experts within 24 hours.