How to Reduce My Creatinine at 407
2017-09-10 11:27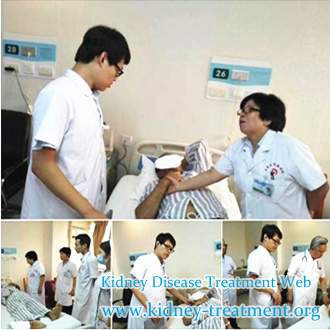 Patients: Hello. My creatinine is 407 (4.7). So, what should I do to reduce it? And thanks.
Kidney Doctor: OK. I see. Your creatinine level is higher than normal. Do you have high blood pressure or diabetes?
Patients: No I don't have blood pressure. I every day check my blood pressure and it's normal and I also don't have diabetes.
Kidney Doctor: I see. Do you know what is the primary cause of kidney disease?
Patients: No, but I have checked the doctor and he tells me that my kidneys are small and it's unknown reason why the creatinine is higher than normal.
Kidney Doctor: Can you send me your test report?
Patients: Yes. Right now I will send. Please help me I'm too young. I just become 20 and I don't want to do any surgery.
Kidney Doctor: Lady, as far as I see, your illness condition is very critical and you need to take prompt measures as soon as possible to prevent further damage. Otherwise, your illness condition is very sever and have you ever consider use Chinese medicine to treat the disease? It helps improve your kidney function without doing surgery.
Patients: But sir, I live in Iraq so where I can get the Chinese medicine.
Kidney Doctor: Lady, only coming to China can you receive the comprehensive and systematical treatment.
Patients: Is there any thing else can help me? Any advice.
Kidney Doctor: If you can receive treatments at your local place, it is not necessary to come to China.
Patients: I check the doctor and he gives this.
Kidney Doctor: This medication do have the effects to alleviate clinical symptoms, it can not repair your kidney fundamentally.
Patients: Do mean I have to change it?
Kidney Doctor: Of course not. What I mean is that the medicine just alleviates some clinical symptoms. You needs a systematical treatment to repair the diseased kidney and recover kidney function.
Patients: Do mean like transplant change my kidney. But this 4 years I'm like that the doctor only gives me this pill.
Kidney Doctor: OK. Your conditions is not reach the serious degree in which you need to take dialysis or kidney transplant. But if you can not gasp time to recover your kidney, they will be needed in the near further.
Patients: I see. I would discuss it with my family and make decision as soon as possible.
Any questions? Fill the form below. You will surely get the free medical advice from experts within 24 hours.