Could It be Possible to Stop Dialysis in A Short Period of Time
2017-09-11 11:20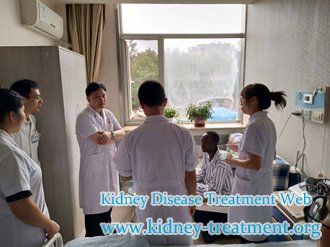 Guest 09-07 10:19:36
I am newly dialysis patient, I just want to know that if a dialysis patient is undergoing dialysis , could it be possible to stop it in a short period of time? I mean, if his condition is good, do he needs to continue the dialysis? Thanks.
kidney-expert 09-07 10:19:48
I see. For most patients, once the dialysis is started, they can not stop it until the kidney function is recovered. However, it is very hard to help the patients get rid of dialysis. I need to know more about your illness conditions and then give your some suggestions. How long have you been on dialysis?
Guest 09-07 10:22:09
I am almost one month already but I feel good and it seems that everything its just like normal.
kidney-expert 09-07 10:22:31
Got it. Though the symptoms is disappeared, your kidney is not recovered, and the harmful things will gathered in the body more again. And thus, your will feel uncomfortable again, even have the risk of life.
kidney-expert 09-07 10:22:42
Please do not worry. As long as you still have urine output, there are ways to help you cast off dialysis? Can you tell me what is your kidney function now?
Guest 09-07 10:23:55
I am not sure. But my urine output is well.
kidney-expert 09-07 10:24:11
OK. For you case, it is likely for you to improve your kidney function and avoid dialysis. You can take Toxin-Removing Therapy instead of dialysis to remove the toxins and wastes from body. Also, Micro-Chinese Medicine Osmotherapy, Foot Bath, Moxibustion Therapy and other Chinese medicines can help you repair the diseased kidney in some points since them can not save the dead cells of the kidneys. As long as your kidney is resumed, can the dialysis be refused.
Guest 09-07 10:24:59
How would I get these treatments?
kidney-expert 09-07 10:25:15
As a series of herbs and advance examinations are used in the treatments, you need to come to China for these treatments. If you want to have a try, please send your copy of passport to me, and then I will send you the invitation letter, later, you can apply for visa.
Guest 09-07 10:25:31
OK. Thank you.
Any questions? Fill the form below. You will surely get the free medical advice from experts within 24 hours.