Do You Have Suggestions On What I Can Do to Increase GFR 26
2017-11-23 09:46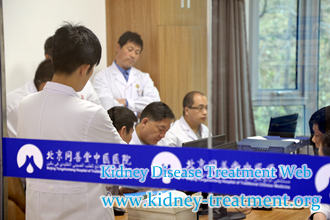 Visitor 11-18 08:10:50
Hi, I just learned today that my GFR is 26 and I am concerned. Do you have suggestions on what I can do to increase GFR?
kidney-expert 11-18 08:11:06
26 is too low. It indicates only 26% of your kidney is operating well to filter the blood and maintain the balance of internal environment. But do not worry, we can help you increase it.
Visitor 11-18 08:11:22
Yeah, I want it above 60.
kidney-expert 11-18 08:11:24
Then, do you have any symptoms? Like back pain, swelling, protein or blood in urine?
Visitor 11-18 08:12:04
Back and joint pain, some ankle swelling No blood in urine. How do I know if I have protein in urine?
kidney-expert 11-18 08:12:27
You can take urine analysis to see whether you have blood in urine. And you can take a 24 hour protein urine quantification to see how serious the protein in urine is. Besides, do you have diabetes, high blood pressure, or other problem?
Visitor 11-18 08:13:34
Pre-diabetic (A1C is 5.8). BP is normal.
kidney-expert 11-18 08:13:47
I have known this case, please control you blood sugar well. Both diabetic and high blood pressure can aggravate your illness conditions. Additionally, the correct diets and lifestyle can help you keep your illnesses through they can not increase your GFR fundamentally.
kidney-expert 11-18 08:14:04
For you case, I suggest you to try Chinese medicine. Have you ever heard of it? It can help you improve the GFR level naturally and radically. Can we know your e-mail address or phone number to give you details of diet plan, treatment scheme and others to help you recover GFR?
Visitor 11-18 08:14:38
Yes, @gmail.com.
kidney-expert 11-18 08:15:16
I will contact you in 24 hours by email, please check your email box timely.
Visitor 11-18 08:16:02
Thank you very much.
Any questions? Fill the form below. You will surely get the free medical advice from experts within 24 hours.