Does Chinese Herbs Available in India market to Help My Father Avoid Dialysis
2017-11-24 14:10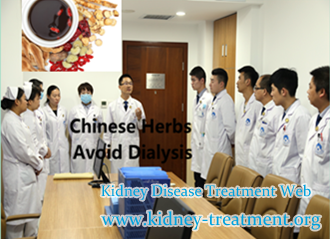 "My father has kidney problem. Diabetic he was for 35 years. Yeah last one year it was like 3.7. Recently it reached 5.5. Urine he is passing. Motion once in 3 days only. He had liver cirrohsis and all became ok. Does Chinese herbs available in Indian market helps? So kind if you help me. We recently did fistula but trying to avoid dialysis as he is very week."
Hello, I am Jennifer in Beijing Tongshantang Hospital of Traditional Chinese Medicine. You had left a message on our web for more information about avoiding dialysis, right?
You said your father's creatinine is 5.5 now which was 3.7 a year ago. It develops very fast. Nonetheless, it manifests there are some kidney function left. Also, it is good to know he still has urine output, which stands for that he has chances to reverse the illness conditions. You said he has done fistula, which is a preparation for dialysis. But suppose he does not have any high risk for life, dialysis can be delayed. However, what he needs right away is to manage the discomforts and recover the kidney function with effects.
To be honest, the high blood sugar will make the blood vessels impairment, resulting in poor blood circulation. In this event, the kidney function will be less as skimpy blood brings very little nutrients and oxygen to the kidneys. What is worse, with the deposition of various toxins and wastes which should be cleared by our kidneys, the kidney will be worsened.
Therefore, your father ought to control the blood sugar well, if necessary, insulin can be accepted. In the meanwhile, the dietary managements take vital impacts on regulating blood glucose and curing kidney damage. Additionally, the healthy lifestyle can help he maintains illness situations. In conclusion, he can also receive Toxin-Removing Therapy, Micro-Chinese Medicine Osmotherapy, Immunotherapy and other Chinese medicines to avoid dialysis successfully.
Last, I am sorry to tell you we do not have any banch in India. If you want to help your father prevent dialysis and recover naturally, your father need to come to China.
If you have any puzzles, please do not hesitate to contact me. I will try my best to help you.
E-mail: kidney-treatment@hotmail.com
Any questions? Fill the form below. You will surely get the free medical advice from experts within 24 hours.