How to Reduce Creatinine Level Around 2.8 for My Father
2017-12-07 11:29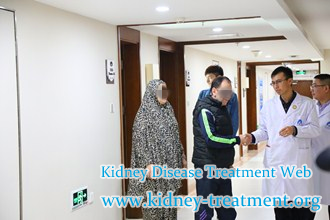 Visitor 12-03 20:08:46
Hi, my father creatinine level is around 2.8, how to reduce it? Is consuming millet in place of rice is better? Thanks.
kidney-expert 12-03 20:09:01
The diet and treatment entirely depend on his illness conditions. Generally speaking, millet is very beneficial for our healthy, but whether it is good for your father need to be confirmed. Does he have any symptoms now? Like foamy urine, swelling, fatigue, back pain, anemia, itching, etc.
Visitor 12-03 20:10:58
He is having itching in toes and heel (burning sensation) also B P tablet telma 80 mg. Might it affected kidney?
kidney-expert 12-03 20:11:13
Generally speaking, the fluctuations of blood pressure will offer more damages to kidneys and worsen the illness conditions bit by bit. You need to make it under the normal level. For how long? High blood pressure and itching?
Visitor 12-03 20:11:28
He has high blood pressure more than 15 years. And it controlled well with medicines. And itching is found out recently, it is about 3 months.
kidney-expert 12-03 20:11:34
Please limit foods with high protein, high salt, high fat and high phosphorus so as to protect kidneys from further damage in some points. Also, please make the blood pressure in the normal range as it is a leading cause of kidney failure.
Visitor 12-03 20:11:43
What treatments do you recommend? Or When need he go for dialysis?
kidney-expert 12-03 20:11:50
For his case, we adopted Chinese medicines to help control the discomforts and improve the kidney function. Limited by words here, I'd like to send you related information and effective advice to help him. What is your phone number or email address?
Visitor 12-03 20:12:31
Please call me at. E-mail address is.
Any questions? Fill the form below. You will surely get the free medical advice from experts within 24 hours.